Why Video Interviewing Software is a Better Option than Video Conferencing Tools to Hire Remotely
There's no surprise why hiring managers choose to use Skype, Zoom, Google Hangouts, or many other free video conference software over a dedicated video interviewing platform as It's seemingly available for free. These alternative tools don't require a regular subscription. Some recruiters find themselves wasting more money on dedicated recruitment software and prefer free video conferencing software. That result in the selection of low-quality candidates and chances of hiring the wrong person for the job.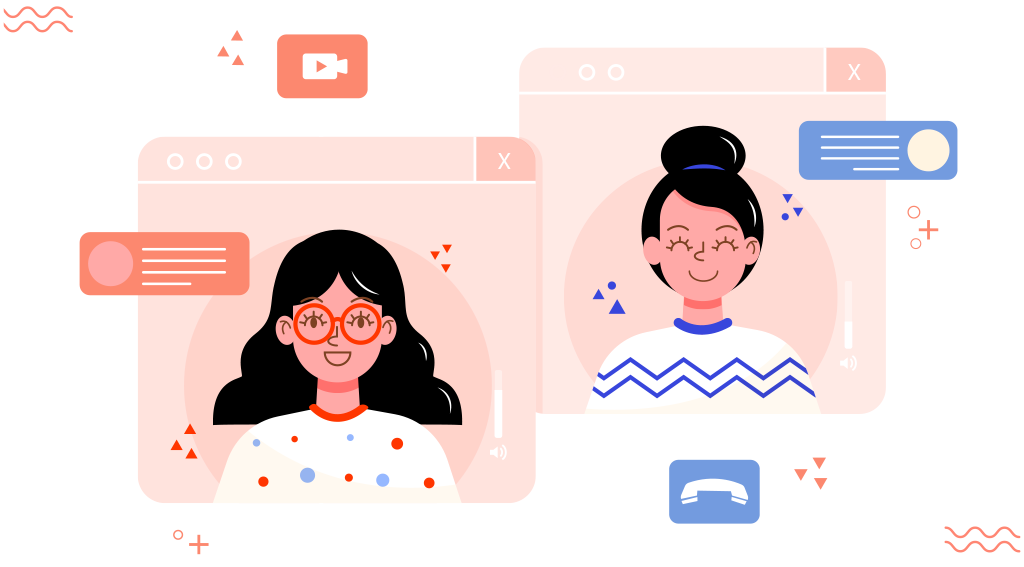 Softwares like Skype, Zoom, Google Hangouts, Facetime were built to connect people in real-time through video technology and great for keeping in touch with family or friends, but this technology is not suitable for conducting hiring and lacks a professional touch to interview candidates and select best-fit hires for a position.
The appeal of using free technology for hiring is still alluring to employers and business, but the short-term cost savings idea of using free software can hinder in hiring the most suitable candidate. In fact, use of an odd-fit free alternative for recruitment probably hinder your hiring efficiency and down your interviewing performance.
If your talent acquisition team can't figure out why the recruitment process is so time-taking, expensive, and fails to net job-fit candidates. It might be time to change your hiring method and shift to a dedicated video interviewing software for the hiring process. Jobma video recruitment software is designed to make your searching, interviewing and hiring of the best-fit candidate for the role easier and more convenient than ever before.
Why you need a dedicated interviewing software?
Many recruiters are under the wrong impression that free live calling tools provides a similar service as a dedicated video interviewing platform, which is not true. Using a specialized video interviewing tool allows you access to many added features such as- a digital interview system with built-in custom rating scales, screen sharing, unlimited recording options and many others. The features listed below will give you more detail idea over the benefits of considering a dedicated hiring technology over free video conferencing software.
1. Ability to Evaluate Candidates Fairly with Built-in Rating Scales
Fair evaluation and quality selection is the goal of all recruiters. With the help of built-in rating scale supported with live and pre-recorded, video interviewing software, it becomes more convenient to evaluate and screen candidates fairly. A built-in rating scale will provide you with real-time metrics on how one candidate performed when compared to the rest while interviewing. This makes it easy to structure your hiring process.
2. Help you Record the Interview for Further Reference
A dedicated video interviewing technology enables you to record the unlimited interview and use it to make a better decision while selecting the best-fit candidate, which is not possible with Skype, Zoom or Google Hangouts tools. Jobma also allows you to save and store these recordings with the rest of the candidate's profile for future references if needed. It's made convenient for the hiring managers to share the candidate's recording and observe exactly what was answered by the candidate without having to rely on memory.
3. Let the Software Conduct Screening for You
A dedicated video interview platform allows recruiters to record the questions once for all the candidates and they don't need to participate in a real-time interview. The applicant can participate in the interview from home, workplace or sitting at café using a smartphone, laptop or computer to record the responses. Once completed, the hiring managers will get a notification informing them the candidate's interview is ready for review.
This system saves a lot of recruiter's time by making screening asynchronous and allowing a lot of candidates to join in the interview at the same time instead of conducting a separate interview for each candidate. Whereas, in a free calling software, you don't have the option to allow candidates to record themselves, but you have to do the interview live.
4. Easy Sharing Encourages More Collaboration Within a Talent Acquisition Team
Jobma video interviewing platform has built-in collaboration facility designed to help you get opinions from colleagues and hiring managers about your candidates to make a better decision and selection of star talent for the role. All you need to do is send a link of candidate's profile to concern person and they'll be able to not only review the recorded video interviews but also get information regarding candidates compiled by the recruiters. Jobma also provides you option to make a piece of information regarding candidates private if you don't want your colleagues to see it while getting an opinion. Whereas, in a free video calling software, there's no option to share the candidate's recording with colleagues or anyone else for a better opinion.
5. Enjoy More Interactive Conversation with Screen Sharing Facility
The screen-sharing features of video interviewing platform make interviews more interactive and accessible. It allows recruiter and the applicants to view a powerPoint or portfolio at the same time. There is few free calling software, which provides screen sharing ability, most don't. Sharing your screen with the applicants is just a click away with the dedicated hiring tool and it's rare to disconnect unless you manually stop it.
A free video calling software is primarily used for video conferencing and interacting with friends and family through video technology. It lacks some major qualities and ability provided in dedicated video interviewing software designed to make hiring more comprehensive, structured, cost-effective and convenient. Choosing a system lacks with these features will result in low-quality hiring, and selection of a sub-standard candidate, which ultimately down your businesses performance. You'll be left with following the same steps as before, with some technology thrown in.