How Video Interviews Help you Improve Hiring Outcomes?
When ways are transforming to connect with the qualified talent and impress them to be a part of your workflow, video interviewing plays a key role. It brings recruitment automation into your interviewing schedule and simplifies the ways you hire people for your organization. Using video screening software, you can automatically screen millions of candidates at the same time, narrow down the list of most deserving candidates for in-person interviews, and customize your interview functionalities based on your needs.
Not only this, a pre-recorded video interview helps you connect to worldwide candidates and scan their professional capabilities as well as non-verbal communication before calling them in for face-to-face interviews and saves your valuable time and budget on travel and stay. When it comes to structuring an effective interview schedule, video recruitment tools help you manage and streamline your talent pipeline throughout the hiring process. It strengthens collaboration in the talent acquisition department and involves more than one person in the selection process that fosters better decision-making.
How can recruiters achieve better hiring outcomes using a digital HR tool?
A virtual hiring solution eases accessibility to the worldwide talent 24*7, reduces the time taken in the recruitment practices significantly, shortens the per hire cost of the organizations, and enriches your workflow with star talents.

Using a video interview platform, recruiters can record unlimited interviews of the candidates and compare a candidate from the rest to select the right fit talent for the position.

One of the most effective uses of an on-demand video interview is it eliminates practices of hectic one-by-one screening of the candidates and allows you to escape from the time-consuming process of telephonic interviewing.

With a video interview, you can record interview questions one for all the applicants working remotely. Best of all, it also enables candidates to record responses and send them back to the recruiters for evaluation from wherever and whenever they want.

An online video interview software is widely adopted and accepted by businesses due to its cost-effectiveness, automation, and ability to promote accuracy, which is rarely possible through traditional hiring.
How Video Recruiting Software Encourages Automation?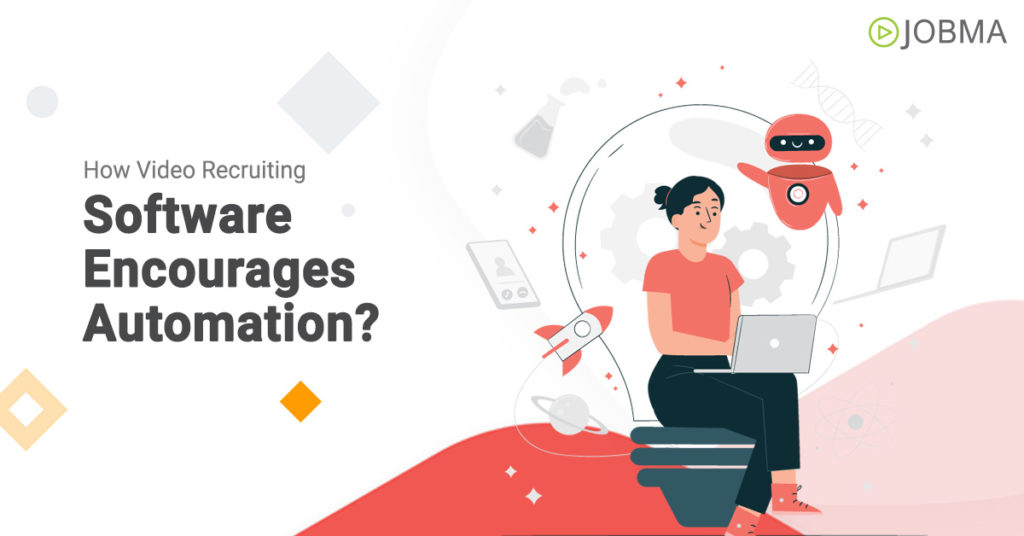 The main function of a video interview platform is to automatically screen candidates based on the job description and shortlist the best applicants for the in-person interview to ensure the quality of hire. Let's see below the feature of a digital interviewing tool that brings recruitment automation to your HR team:
Put Interview Process on Auto Function
A well-designed video interviewing software like Jobma helps recruiters send an auto-reminder for the interview, auto screen the applicants, customize interview parameters as needed, and let the hiring managers review & score the candidates working remotely. In short, it makes hiring a self-operated activity.
Improve collaboration
Video interviewing brings all the hiring stakeholders in a talent acquisition team to a single virtual platform and better aligns hiring participants to achieve quality recruitment outcomes. Such a feature makes recruitment more effective and comprehensive and structured your hiring process than ever before.
Foster easy access to global talent
Are you tired of searching for the right talent to enrich your workflow? If yes, the digital interviewing platform connects you to the quality people you need from across the world and no longer lets you suffer the lack of talent for your organization. Also, an interviewing tool reduces a business's dependency on local talent by breaking geographical boundaries.
Make hiring tech-savvy and remote-based
Using a pre-recorded video interview software, you can scan the soft skill, professional expertise, and non-verbal expression of the applicants from afar that might not be possible in a traditional interviewing method. Best of all, with the help of a digital hiring solution, you can gauge the candidate's capabilities remotely before investing time and budget in them and save businesses valuable time and amount in hiring activities.
The above top-notch features of a video interview platform for sure help you increase the recruitment outcome compared to traditional hiring and make interviewing a tech-savvy talent acquisition process. If you also want to upgrade your HR team with high-tech and digital hiring features, integrate Jobma digital interviewing software with your talent acquisition department now. It offers great interviewing features and provides subscriptions for free.