Why Video Interview Should be the Future of Recruitment?
Whether it's saving time or creating a digital hiring experience, video interviewing is transforming recruitment for both recruiters and applicants and taking it to the next level. It takes a long time between posting a job and choosing the right-fit talent through the traditional interviewing process that turns hectic for both interviewers and candidates. Pre-recorded video interviews help the hiring managers to gauge if an applicant is a right fit for the position or not in just a few minutes.
Indeed, recruitment is and always will be about selecting competent people for the position. However, technological advancement could entirely change the way we hire the right people more effectively. With its ability to reduce time and budget to hire the right talent for the position, virtual video interviewing will be the future of recruitment sooner or later as it helps businesses attain target objectives conveniently and cost-effectively.
What makes video interviewing a recruitment solution for the future?
Video recruitment platform changes our hiring approach and makes it an automated, advanced, and data-backed comprehensive selection mechanism.
Remotely connects interviewee with the hiring managers and brings greater flexibility in your talent acquisition process. It allows you to engage qualified candidates from afar who find it challenging to take a day off for interviews.
When it comes to participating in an interview, it can be daunting for many candidates. If you are one of those, relax! Pre-recorded video interviews make this stage less stressful for you by reducing the need for in-person interviews at the initial stages of the hiring.
When hiring people for a higher position, there are chances of interacting with multilingual people from worldwide. Video screening software is designed to bridge the gap of linguistic diversity with technical advancements and make interviewing smoother for you.
65 % of hiring managers reveal that they use video interview platforms in their hiring process not only to conduct remote interviewing but to ensure a data-backed and more structured hiring strategy in their recruitment practices.
Key features of a video interview platform that make it a next-gen hiring solution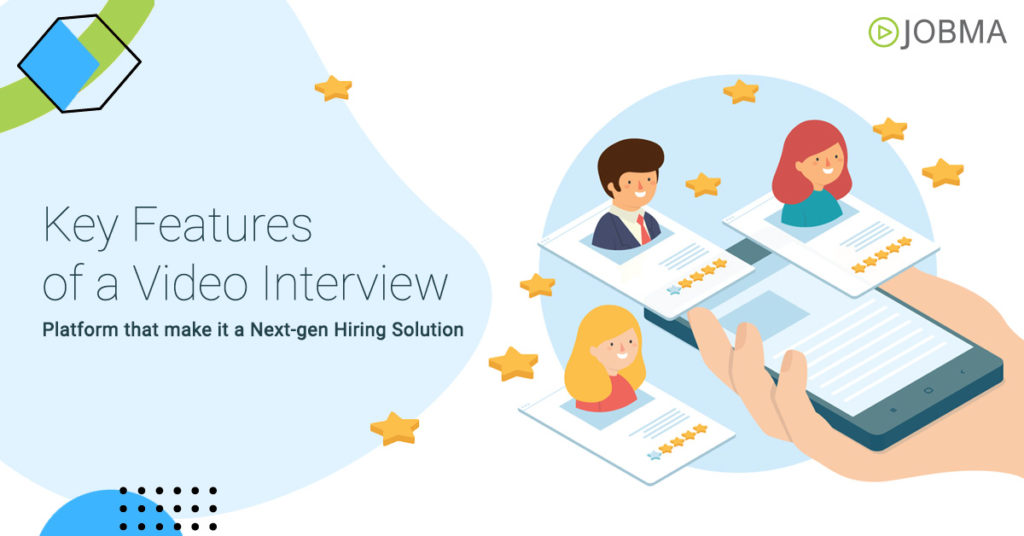 Reduce Travel
Video interviewing solution allows you to eliminate the expanses and annoyance of hectic travel at the initial interviewing of the candidates. With Jobma video recruiting platform, you can record interview questions once for all the applicants and let the candidates record answers remotely from wherever and whenever they want. Not only this, you can leave feedback, review scores of the candidates, and share details with your colleagues and experts sitting at home, just with a single click.
If you wish to hire talent from worldwide, an on-demand video recruiting platform enables you to scan the applicants in detail from afar before calling them in for in-person interviews and save a tremendous amount of time and expenses on travel. This way, you can hire several highly qualified global talents remotely using a digital interviewing tool in less than 50 % time compared to traditional hiring practices.
Hire Faster
Video screening software brings recruitment automation into your talent acquisition team and enables you to screen a lot of candidates at the same time. It also allows you to shortlist the most suitable applicants for the position based on the job description. Even for the applicants, the faster recruitment process brings opportunities to participate in more and more interviews and get hired quickly. Besides, using video screening tools at the early-stage interview allows employers to engage with a vast number of applicants in a short time and improve understanding of whether a candidate is suitable for the position or not. Once you get a better idea of a candidate's skill and personality, you can narrow down your list of best candidates faster and make a better hiring decision at the first attempt.
Foster data-driven recruitment
Video interview reduces interviewing rounds. It provides you a dedicated feature to shortlist the candidates based on parameters set up by recruiters in the job description and select the right fit applicants for higher hiring stages of hiring. With an online video interviewing software, you can structure the candidate's data more comprehensively and use it to scan the applicant's ability to take the right decision based on the evaluation score obtained by a candidate. Jobma offers an easy-to-access interface and an integrated dashboard to track personal and team performance of recruiters, making it convenient for the employer to analyze and improve their HR team performance based on data and analytics.
Improves quality of hire
Traditionally it was difficult to take note throughout the interview and leave feedback based on your note as there's always a chance of committing unconscious mistakes when executing dual responsibilities of interviewing and scoring at the same time. But with a video screening platform, such issues don't exist anymore as most digital hiring solutions provide you unlimited interview recording facilities to compare a candidate from the rest using recorded interviews. It reflects that recruiters can evaluate a candidate more effectively with video interviewing technology. It also ensures that all candidates are thoroughly evaluated without any conscious or unconscious biases.
Are you still stuck with the traditional recruitment practices and wasting your valuable time and money screening odd-fit candidates? If so, it's high time to shift your hiring to a digital platform if you don't want to lose your relevance in the hiring industry. Integration of Jobma video recruiting software in your talent acquisition team enables you with cutting-edge remote interviewing features. And helps you transform your hiring into a next-gen talent acquisition technology.