As a job seeker that has opted to create a video resume, it can be confusing to know which video resume website you should register for. There are several platforms, and they are not all the same in terms of functionality and features. This series is written to provide you the information to know and understand what Jobma offers that other platforms cannot and why these features are crucial to success in your job search.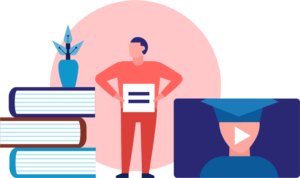 While both Jobma and Mayomann are platforms where you can upload a video resume, search and apply for jobs, upload a profile picture, and enjoy an ad-free website experience, there are important differences between the two. Check out this list of Jobma features that are not available on Mayomann:
Job seeker blog. Unlike Mayomann, which doesn't have a blog directly on their site, Jobma's blog provides you with a whole slew of information on how to be as successful as possible in your job search. The blogs cover everything from interview tips to video resume creation to how to network. You'll see infographics, read articles summarizing relevant research, and receive helpful career advice. If you've never created a video resume before, you'll find our blog posts on video resume creation especially useful.
Personally customized URL for sharing. To optimize your chances of success in your job search, you must share your video resume and job seeker profile across a wide audience. Jobma recognizes this by providing each registered job seeker with a customized URL that links directly to their profile, which is something that Mayomann offers as well. Jobma, however, also gives job seekers the ability to personally tailor the URL to further reflect their personal brand. These URLs can be shared not only in job applications and cover letters, but also through email and on all of your social media networks. You can even directly share on these networks through your Jobma profile. Pretty convenient, if you ask me.
Video creation. Unlike Mayomann, Jobma allows you to create a video resume right on the website (rather than uploading a preexisting one). Again, pretty convenient to have everything you need for success accessible from your job seeker account.
Premium membership. Unlike Mayomann, Jobma gives job seekers the option to pay $5 per month in order to have three video resumes uploaded to their profiles. This option allows for specific customization of your videos to the specific companies or positions that you are targeting.
Advanced search. By allowing you to customize your job posting search according to several different variables (even salary and years of experience!), Jobma helps you find the positions you are looking for more quickly.
Smartphone application. Jobma offers you greater accessibility through this feature. You can create and upload a video from your phone, receive notifications from employers, and search for jobs—all from your mobile device!
Visit www.jobma.com to create a job seeker profile and start utilizing these Jobma-specific features today! Also, stay tuned for more posts within our "Why Jobma" series.