"Soft skills" is quite a wider term to explain. However, it expresses the ability and capability of a person, how he/she deals with different scenarios in random conditions. It means every person persona of somehow different persona. The same scenario goes to business industry as well, because of the varied requirements they have for their industries and it makes them look out for a different mix of skills and experienced based individuals for their organization.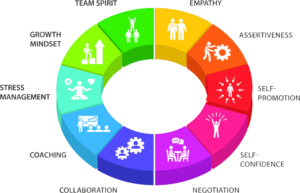 Yet, there are some traits are idealistically needed to be present in every individual. These traits or soft skills are meant to complement your competencies, and turns you the potential candidate for hiring. Although, the degrees, diplomas and certifications, you earned are equally important, but the soft skills of a person put them higher out of every trait.
To handle the dynamic requirements of the business industry, we have summarized a few soft skills that are easy to adapt and always high in demand. Working hard on these skills will bring out the best in you and become a better contender in your job search. It will let you gain some good experience of life. So, let's jot down those healing soft skills needed by every hiring associate of the industry.
I. Your communication skills are the best USP (unique selling point). Well, it's more than just speaking or conveying a message. It involves how to perceive the actions and respond to them, i.e. Listening & presenting skills. If, your ability to explain the concepts is very much in flair, then, you know how to manage the people around you. This ability helps in dealing every situation in a far better way and the tech-savvy person takes advantage as compare to others.
II. The high-tech surroundings of business industry want a computer or technical literate person, regardless of your job-industry type. Since, the technological involvements and enhancements in the industry led every candidate to interact with a computer system at some level. Still, many job-seekers simply failed to perform in the interviews because they lack technical/computer skills. Nevertheless, you need not to be very proficient in terms of technical knowledge, but you must be well-versed with the basics of computer and its operations to get through the interview. So, wisely choose the skills to make it a part of your resume.
III. The ability of a person to perceive, view and respond intelligently in the random situations are referred as "Problem-solving skills". It simply requires creativity, confidence, relevant experience, research, information, reasoning ability and the time management. All these components allow you to handle the situation, efficiently. Moreover, if the person is able to solve the matter in a lesser time span shows his/her caliber and responsibility. Highlighting these skills in your resume will certainly give an advantage and strengthen your candidature.
The skills mentioned above are the key points of a candidate that get instantly noticed in the interviews. The present trend of hiring demands to build up these traits in mandatory terms for every job-seeker. It helps them to grow, learn and use them as their self-marketing approach. However, there are many more other soft skills needs to be present in a person and in the next post; we'll be discussing more about those mandatory soft skills of the HR industry, till then keep learning.