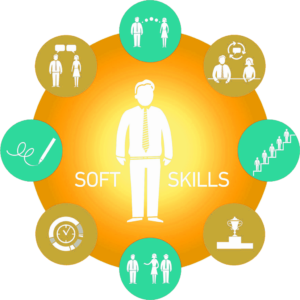 "Soft skills" are the key attributes in the personality of a person that connects it with the society and enhances its compatibility to work in an organization. It's like building relationships is the key to success. Nowadays, organizations have added a section of soft skills, where these traits are tested and counted in the scorecard of a candidate. Moreover, the research, studies and experiences say that a person having the right soft skills performs with efficiency on the job.
In the earlier post, we had discussed about the basic soft skills that are needed by the industry. In addition to the earlier post, here, we'll be discussing more about other equally important soft skills required by the industry. Soft skills contribute a lot in the performance of the candidate. It lets the candidate groom in personal and professional field. Here, we summarize a few most common soft skills employers are looking out in the candidates.
Starting on the positive note, the very first thing to look out in a candidate is the "Positive Vision". It's the only trait that can overcome troubles or disruptions at any point of time.  The positivity or optimism of a person generates good energy in the surroundings and make things work out for all.
Dedication and motivation are the two traits that compile and form "Strong Work Ethics". They let you do your job with full dedication, despite of any conditional obstructions. People with the strong work ethics easily make a way for success.
"Self-confidence" is a must have trait in the ideal candidate. It brings the best out of everything. Confident people calmly inspire others and freely lead ahead in the industry.
"Time management" is an essential skill that lets you handle the events of life within a specific time-span. Effective or efficient time management leads to enhanced productivity. People who wisely plan their assignments as per the time schedule can easily adapt to work under pressure within a tight deadline. They even perform better as a team player.
Working Professional for a living is an inseparable part of our life. People learn with each passing phase, but the ability to learn and accept with criticism makes the candidate grow as a person and as professional. It's a kind of receiving criticism.  It lets the person attains the flexibility and adaptability as per the new situations and circumstances.
In short, candidates, who learn with the time knows how to handle situations with a calm approach and get success in a long term. So, try to embrace such qualities in you and make a stronger contention. However, you cannot bring changes instantly, but with the time you can easily implement them in your overall personality. Good luck and keep learning.