By: Debra Wheatman
Debra Wheatman, CPRW, CPCC is president of Careers Done Write, a premier career-services provider focused on developing highly personalized career roadmaps for senior leaders and executives across all verticals and industries. Debra may be contacted directly at debra@careersdonewrite.com. Visit her site at: careersdonewrite.com. Follow Debra on Twitter.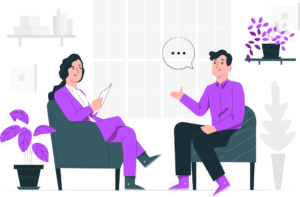 No matter how prepared you might be and how many mock interviews you've done, there is always that chance you receive an interview question you've never heard before. As a result, you might get caught off guard and stumble through a regrettable answer. You are not alone if you've experienced the immediate pressure to recover instantly from a tough interview question, and here are four tips to keep in the back of your mind as you go through the process.
Don't lose your cool. You are likely extremely aware that you are giving a bad answer as you are giving it. Perhaps you rushed into a responding to a question and dug yourself into a hole that required extra linguistic gymnastics in which to execute your escape. Bottom line is that you know you made an awful mistake. It's critical that you keep your focus and stay relaxed. Though you may have cost yourself points with your interviewer, if you still have time, you can achieve a strong recovery.
Think extra-carefully about the next question. Take a little extra moment or two to gather your thoughts and proceed. Make sure to add structure to your answer this time by either numbering or outlining what you are going to day – e.g. say, " I can think of three things that address this specific concern, and they are A, B, and C."
Exude positive energy. If you falter on a question, shake it off and stay positive. Smile. Be likeable. Everyone makes mistakes and if you express your humanity at this moment, your interviewer is more likely to give you the benefit of the doubt. If you crumble from the pressure from giving one bad answer, your interviewer could question your ability to deliver or perform when it matters.
Ask to re-visit the question. This is something of a risky strategy. Before ending the interview, ask to re-visit the question you answered poorly. With additional time to think, perhaps you have a better answer. Some experts would recommend avoiding a weakness completely, but attempting to fix what you may have broken can be a good way to leave on a better note with your interviewer. Utilize this approach with caution.
All of these tips are completely applicable to a video interview where it is even more critical to express your enthusiasm and energy for a role. If you falter on a question, negative body language can come across more strongly over video than it would if it occurred in person, so knowing how to recover and get yourself back on track can mean the difference between a call-back and a rejection.