Why Choose Jobma for Video Interviews: Unlock Your Hiring Potential
Posted on
Sourcing, screening, and identifying the top candidates for open positions is an important undertaking and it involves several people from the recruitment team. Video interviewing is a modern and popular approach, which is changing the way companies recruit. It helps you find the best candidates and spend less at the same time.
Jobma is an innovative video interviewing platform, that enables you to conduct both one-way interviews and live video interviews from anywhere in the world, broadening your talent pool. Its AI capabilities help you make data-driven decisions and ensure fair hiring. Let's understand why Jobma is the best choice for conducting video interviews.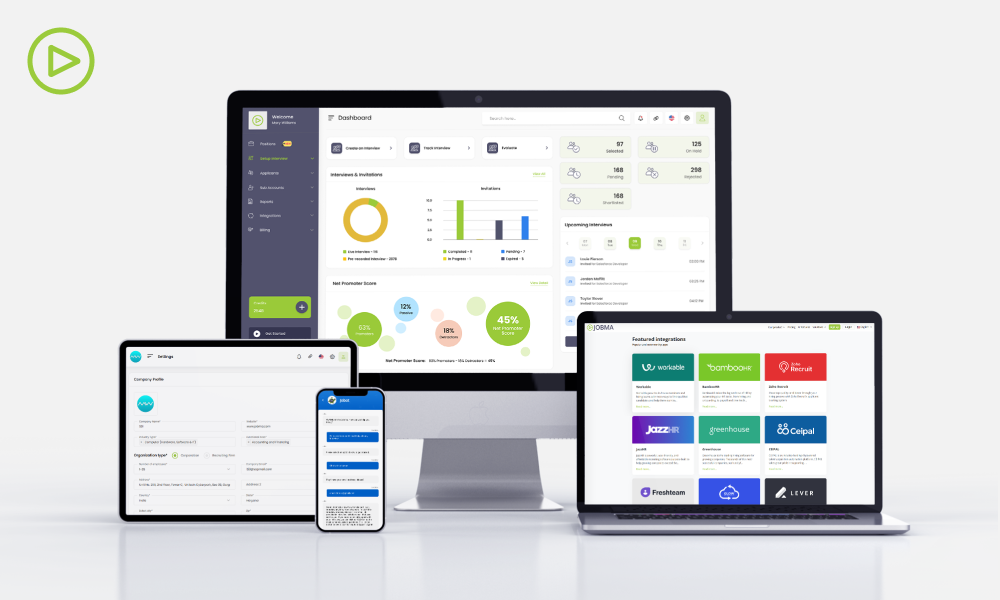 Saves Hiring Costs
According to new benchmarking data from the Society for Human Resource Management (SHRM), the average cost per hire was nearly $4,700. Jobma doesn't only save time for you and candidates – it also saves them a lot of bucks. Cost savings are one of the biggest reasons to consider video interviews in today's business world, where companies are tightening their belts. With Jobma, applicants do not have to incur travel costs to appear for the interview. Many companies conduct different rounds of interviews for applicants, ultimately increasing travel expenses. Not only does it help candidates save money, but your company can also reduce expenses like lodging and airfare associated with getting non-local candidates to appear for in-person interviews. Jobma allows you to conduct remote interviews quickly, leading to faster hiring decisions and minimizing the cost associated with keeping positions vacant. If any unforeseen circumstances such as weather-related travel issues, you will have to reschedule the in-person interviews. When it comes to Jobma video interviews, these issues cannot affect the process, hence reducing the cost of rescheduling.
Communication and Collaboration
With Jobma's live chat feature on the website, you can start real-time communication with their support team. They answer questions, assist users, and address their concerns promptly. SMS invites help you reach out to candidates and invite them for interviews. These invites consist of either links or instructions to complete the video interviews. Also, you have the option to send email invites to candidates and hiring team members, which carry detailed information about the interview process. Additionally, Jobma's Calendar Integrations enables users to effortlessly set interviews and appointments using popular calendar apps such as Google Calendar or Outlook, helping to avoid scheduling conflicts by making sure both interview candidates and interviewers can meet at their designated timeslots. Calendar integrations may also send automated reminders so as to reduce missed interviews altogether.
Integrations
Jobma's integration with various applications, such as Zoho Recruit, Zapier, Workable, BambooHR, Checkr, etc. can streamline and accelerate your HR processes. With the integration, you can use ATS data to identify the most promising applicants, reducing the time spent on initial screenings and ensuring that only qualified candidates move forward in the hiring process.
Zapier opens doors to over 5,000 apps ranging from Google Sheets and Gmail, Slack, Hubspot, and Salesforce – providing automation of repetitive tasks without technical expertise being necessary. Checkr integration makes background checks simple, creating an efficient screening process. Furthermore, Jobma's flexible integrations adapt and scale with your organization's growth ensuring enhanced recruitment processes – an indispensable asset for HR teams.
Learn how Jobma can integrate seamlessly with your recruiting workflow.

Employer Branding
Your employer brand is basically the way people perceive your company's work environment and other aspects. Glassdoor research indicates that most job applicants use company reviews and ratings as part of their decision to apply for openings. By using Jobma's video interviewing platform, you can show your dedication to offering an easy hiring experience centered around candidate needs. Your business should present itself as one that cares about candidates' experiences, which could result in positive word of mouth or online reviews that strengthen its brand. Implementing video interviews proves your organization can adapt quickly to technological advances. Innovation will attract tech-savvy applicants and establish your business as an attractive employer in a highly competitive industry. Jobma allows you to customize and edit logos on job descriptions and interviewing, helping your company create its unique branding. Accelerate the hiring process while showing candidates your appreciation for their time spent and quick decision-making abilities. Your agility and flexibility can enhance your standing as an employer. Jobma is an industry leader when it comes to candidate satisfaction, helping build your employer image while expanding talent pools.
Better Candidate Experience
The way candidates interact and perceive the hiring process can make or break the image of your company. The job application process, screening methods, and the interviewing process itself impact candidate experience.
According to the 2023 Candidate Experience Survey, most respondents rated the hiring process as extremely significant (7-10 on a scale), which indicates how job seekers consider it as part of the overall employment experience. Furthermore, most candidates today use mobile devices primarily during their job search process. Jobma is designed for use on mobiles, so candidates are able to participate without any hassles.
The Candidates Experience (CandE) Global Research Report revealed that 47% of applicants did not receive a response until over two months had passed since submitting an application. Jobma ensures a personal approach and high-touch engagement throughout its hiring process. Additionally, Jobma's video interviewing software enables candidates to record their responses to the pre-recorded questions at their convenience. It also allows applicants to review their responses prior to submitting them, giving them more confidence and increasing engagement during interviews. Ultimately, its mobile-friendly interface and wide array of interview choices not only enhance applicant experiences but also reduce late responses resulting in an efficient hiring process.
Use of Artificial Intelligence
Jobma improves how candidates are screened and interviewed through its AI features such as transcription. You can quickly convert video interviews into text format for fast analysis of candidate responses. Jobma's AI proctoring feature allows you to monitor candidates during video interviews in order to make more informed hiring decisions. Furthermore, its AI scoring uses artificial intelligence technology to evaluate candidate responses so you can select only those best-qualified ones. AI-powered video interviews provide scoring based on the criteria you specify for this process. They help eliminate bias during recruitment by placing greater focus on an applicant's personality and behavior rather than their looks and CV. AI can ensure all candidates are evaluated against uniform criteria, making the evaluation process more objective and fair. By analyzing relevant video interview data points such as verbal or nonverbal cues, AI can provide insights into each candidate based on performance rather than superficial attributes.
Make the most out of Jobma's AI features – Schedule a free demo today!
Mobile Phone Accessibility
Jobma's mobile phone accessibility enables candidates to take part in interviews from any location, eliminating travel time and saving resources. You can also benefit from tapping into diverse talent from around the globe through this access; expanding your talent pool while creating inclusive hiring practices.
Jobma's interview software delivers an immersive user experience, from its intuitive app and responsive web interface, through real-time notifications of interviews that keep candidates up-to-date and engaged throughout. Scheduling interviews quickly is now possible as back-and-forth communication between parties involved is significantly reduced, saving both time and costs associated with physical interview locations.
Jobma places great emphasis on security and privacy. Robust encryption measures safeguard candidate data, creating trust in the platform. Furthermore, mobile accessibility provides you and candidates with an easier, cost-effective, and efficient hiring process.
Accessibility Features for Candidates
Jobma's accessibility features enhance the experience for candidates with disabilities on the platform. These features make the platform more inclusive and user-friendly for such applicants. Candidates with low vision can initiate interviews in full-screen mode for improved visibility and interaction. They have the option to customize text and background settings to make the screen more comfortable for their needs. Jobma also comes with an integrated text reader that reads text aloud, ensuring accessibility for candidates with visual impairments. Additionally, candidates can use voice commands to compose answers and perform various actions, such as clicking buttons or selecting options in multiple-choice questions (MCQs).
The goal of these accessibility features is to promote inclusivity and fairness, enabling candidates with disabilities to actively participate in Jobma's job interview process.
Conclusion
By choosing Jobma, you are not just streamlining your hiring process but also improving your company's image, reducing costs, and ensuring a fair and efficient recruitment process. The innovative features and user-friendly design of Jobma make it the ideal choice to unlock your hiring potential and secure the best talent for your organization. Don't miss out on the opportunity to enhance your hiring process – schedule a free demo today and experience the benefits of Jobma firsthand.