Use Video the Way You Need It
Jobma allows users to upload a 60 second video to their profile which is then attached to their resume. This video pitch is intended to be used for a video resume, which is generally just a person talking to a camera about who they are and what they can do. Utilizing video in this way is extremely beneficial in that it allows employers to see your soft skills, beyond what a text resume can do. With that being said, a video resume is not the only way this video capability can be used.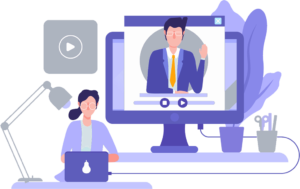 If you thought a resume was pointless because your field or desired position does not necessarily require the use of soft skills, video can be used to showcase your technical skills in a more tangible way. Create a video that shows off your work, be it a slideshow, live action, or a combination of the two, and by doing so employers have access to examples of your work directly on your resume (via the QR code). This not only saves trees and lowers your printing costs/reduces the amount of digital documents you need to send, it also makes viewing you as a potential candidate much easier for employers.
Do you work with video? Coordinate events? Model or act? Do work with photography or graphic design? This 60 second video can act as a miniature portfolio. Be creative! You can show graphics and talk about your work simultaneously without having to be in the same room as the viewer, and without copious amounts of text.
No matter what field you are looking to enter, using video in promoting yourself can help set you apart from other job seekers. If you'd like to showcase what you can do by using video go to Jobma.com and register for free today!