Social Media: Making Hiring Simpler!
Social Media is the most trending concept that's influencing the entire society. Every possible business industry is under the hood of social media. Social media platforms had certainly changed the trend in many aspects of the industry. Likely, the way potential applicants are screened and hired. With the right data and proper utilization of such sites, the most qualified employees could become part of your company.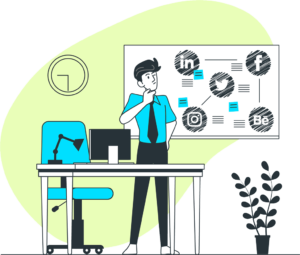 Sourcing and securing the right candidates with the traditional approach cost a high amount. However, the social media hiring has made this expensive deal in a negligible amount by delivering top-notch results for the organizations. As per the current statistics, 75 % of recruiters, hiring manager or employers are either choosing or planning to choose a social media platform as the primary tool to screen the potential candidates.
The chief reason behind the successful hiring of candidates through social media is all because of the uncountable users using these websites and the rate of updates on the content get upgraded every minute and seconds. Moreover, the social media recruiting is a budget friendly option for the startups and other companies.
Social Media is making hiring a simpler task for recruiters, hiring associates and employers. It means there are some easy ways out in social media hiring for beginners or newbie's. Let's outline a few ways of social hiring and get benefited.
Start out with LinkedIn pages, profile and groups.
Get more connections on LinkedIn profile.
Post content and updates through LinkedIn.
More connects will get you more results.
Optimize your company's career page. Get it connected with social plug-ins and optimize it regularly to be seen and visible on the web.
You can have twitter page, brand it with tweets and following people. Find the potential employees with it.
Get people engaged with the conversations and updates about your job-industry. Create a new brand name for the company.
Utilize the university job-boards in your favor. Get associated and post the openings and hire the candidates.
Use and join social networking groups like, Alumni groups, job groups, pass out batches, fresher groups and some similar sounding categories on LinkedIn, Facebook, Twitter and other promising social media channels.
Precisely, social media is such a budget friendly and resource giving a platform for the HR industry. It lets the recruiter secure the right candidates with a minimum effort. Simply use your skills and get into the conversation to share more about your workplace. The more candidates get the information about your company, the better prepared prospective can be seen for the future of the company. Hence, get started from today and hire the best for your organization.