Know the right Interview Etiquette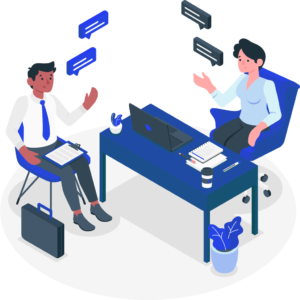 A successful interview is not just about landing a new job; rather it's more about your behavior skills. Knowing the right behavioral skills and interview etiquette plays a significant role in the successful completion of the interview.
Everything you say, assume and present, matters a lot, starting from your dressing sense, behavior, body language, presentation and communication, with the counterparts and employees of the organization. These activities build your score card and get added in the outcome of the interview result. So, it's extremely important to take care of your acts or activities performed during an interview.
To make things easier and simpler for every job-seeker; Here, we highlight a few facts that will help you to groom interview skills and certainly guide towards a positive development.
Dress to Impress!
Before we go anywhere, the very first thought strikes the mind is what to dress and how to dress to look best. The thought of dressing right is very much applicable in every place you go. Especially, when it comes to interviewing, it's the first thing that gets noticed by the hiring associates. The dress you wear and the way you carry it shows your responsibility, sincerity and attitude towards life. Usually, the professionally dressed-up candidates score more than the other aspirants. Dressing well is a bonus point for the aspirants. Always dress-up like a boss, regardless of your job-type, and leave a positive impression, that lasts forever. So, when you go for interviews just stay confident and dress professionally, to be successful.
Arrive before time!
Candidate's arrival timings play an important role in the interviews. It shows your dedication, seriousness, punctuality and willingness towards the profession and organization. Reaching a bit early for the interview gives you the time to relax and check the surroundings. You can prepare yourself again within that time, and do the touch-up for hair, make-up and dress. So, be calm and arrive before time.


Bring all your documents!
Generally, we carry one set of our all documents for the interview. However, it's important to keep a spare copy of your all documents, if you lose one set by mistake, then the backup documents can be shown in the interview.  Moreover, the present trend encourages you to carry your gadgets in the interview, like iPad or Laptop. It helps you to demonstrate all your accomplishments and work, live at the interview. However, the phone is again a gadget and it should either stay on silent mode or switched off to avoid disturbance.


Greet Your Interviewer!
When you arrive at a place, the very first thing to do is, you greet and introduce yourself to the concern person. The same scenario goes for an interview; you greet and introduce yourself to the receptionist or the coordinator, if there is one.  It's important to greet the people you meet in the interview; a firm handshake or smile is always appreciated. Greeting the people you meet is positive sign and an optimistic attribute of your personality. It adds few more points in your interview scorecard.
Hence, by keeping a check over the small activities can help you groom with your Interview Etiquettes. When it comes to interview, these things become very important and one should never underestimate the power of such small activities. Most importantly, your positive behavior skills give you bonus points. So, groom yourself and stay confident, you'll shine forever. Good luck!