7 Tips to use Social Media for Recruitment
Social media has changed the way we live our lives – the ways we get our daily updates, the way we get our information, the way we keep in touch with our friends and family, pretty much just everything. The use of social media across the globe is ever-increasing. Let's quickly go through some noteworthy statistics before we talk about the use of social media for recruitment –
There are around 3.5 million social media users today, that's 45% of the world population*.
According to a study around 90% of Millennials, 77% of Generation X, and 48% of Baby Boomers are active social media users.
84% of organizations are currently using social media for recruitment.
A study from the Aberdeen Group revealed that 73 percent of millennials (18-34 age group) found their last position through a social media platform
We've reached that point where social media recruiting isn't just a luxury anymore- it's a must-have strategy for any sort of successful recruiting to be done by organizations.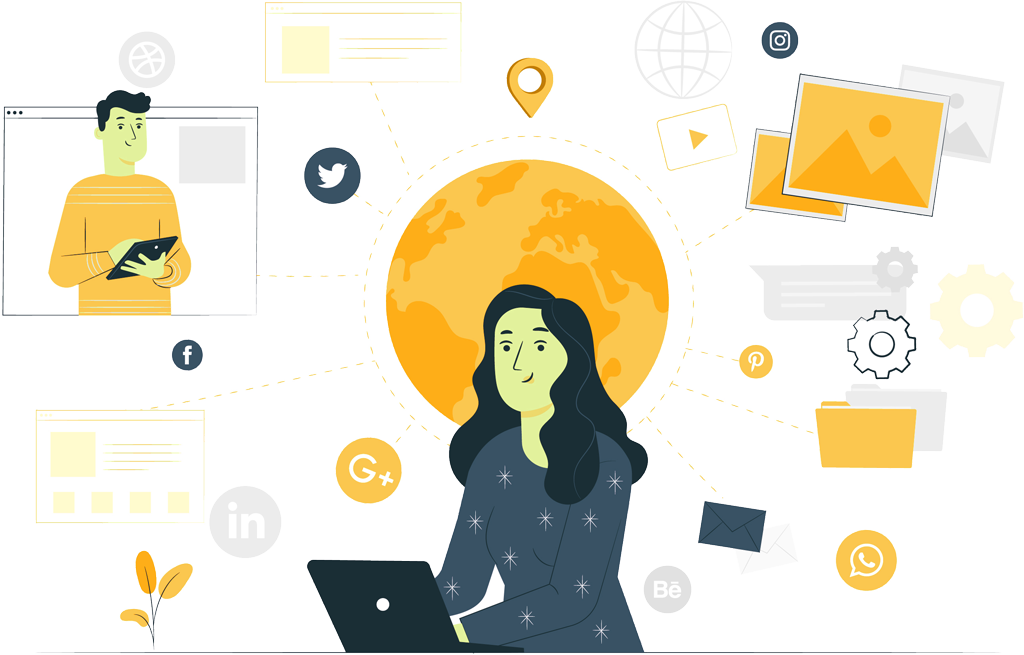 Now, let's talk about some benefits of social media that'll help you with your talent search –
Social media is a vital channel for sourcing relevant individuals and promoting company culture.
Reaching out to passive candidates – Nearly 82% of companies currently use social media in order to successfully recruit passive job candidates. Social media is the best way possible to find and connect with passive candidates. LinkedIn is essentially useful here, as it gives you an access to reach out to professionals across industry, company and job categories.

Get certain details even before receiving the resume – People these days are very particular about updating their career details on social media. You can view a person's complete work and education profile on LinkedIn, and also sometimes on Facebook.
Find the right culture fit – Social media gives you a chance to learn what a person's hobbies, interests are or what kind of a personality do they have. Thus, you can identify candidates who are both skilled and also a good fit for your organization at the same time.

Save Money – To start with, you can use social media for recruiting at no extra cost, social media recruiting is completely free. And later, depending on your requirement, etc, you could promote job openings through paid campaigns.
Recruiters and hiring managers are always looking for ways to source the most qualified, talented pool of applicants and they can leverage social media for exactly this.
Moving on from the benefits of social media recruiting, a.k.a social recruiting or social hiring; how do you find the right person for a particular job role using social media? While most organizations are using social media to recruit candidates, not all of these organizations are doing it successfully. Let's look at what can you do better at this front –
1. Optimize Your Company Page –
Figure out what you want people/candidates to see about you in the first go. The text/description you write at your social media handles matters a lot. This is what is picked up by Google to show in its search results. Therefore, write a brief main message capturing all the major information about your company. Additionally, include keywords that you think people would use to find businesses like yours while searching on Google or other search engines
2. Promote Your Company Culture –
Share content that highlights your company as a great place to work. This will help you attract candidates organically. People love talking about companies with unique cultures so this type of content often gets a lot of impressions and shares. Moreover, the people working with your organization are the best source for sharing insights on your organizational culture authentically on social media. Encourage and promote your employees to talk about the brand they work for, make it easy for them to share their honest opinions, company related insights, updates, events, town halls, etc. showcasing what it's like to work with your organization.
3. Keep a Tab On Your Social Media Standing –
It's important for companies to not just exist on social media, i.e. just have pages on – on LinkedIn, Facebook, Twitter, etc. but also, make their presence felt. What's needed is to run an audit on your social media visibility. For eg. How many followers do you have on your LinkedIn company page, how frequently do you put up content on social media pages, etc. The key is to actively engage with people on social media. There are several online tools available out there that can help you monitor social media presence for opportunities for content sharing, connecting with employees and potential hires, and also look out for problems that need to be fixed, etc.
Quick Tip #1 – Using hashtags is a great way to get your job openings in front of candidates who you would want to apply.
4. Have you tried Instagram? –
Sharing on Facebook isn't the same as it used to be earlier. These days, gaining attention on Facebook without paying makes it challenging for many companies. Instagram, on the other hand, has the highest user engagement among any of the top social media, even greater than Facebook and Twitter. It's a great place for getting your employer brand noticed, especially, keeping the millennials and generation Z in mind.
5. Try Out a Social Media Recruiting Software.
One of the easiest methods to streamline all of the social media recruiting that you do is to make use of an online software program that can simplify the entire exercise for you. You can use an online software and sync all social media handles of your company, schedule job posts, automate responses, and much more. Some of the popular social media recruiting software are Hootsuite, Buffer, Jobvite, Recruiterbox, Greenhouse, etc. Try one of these out today.
6. Use Your Employee's Social Media Power –
You'll surely have some employees who have strong social media visibility and activity levels, leverage your employees' social media power. Ask your employees to share job posts and related content on their social media networks as well. This will get you more eyeballs, more views, more engagement, more coverage and all of this organically. It will increase your probability of reaching out to relevant talent.
Quick Tip #2 – LinkedIn comes in as a very useful platform, when you're recruiting for some niche and senior level positions.
7. Give It a Personal Touch –
When candidates respond to a job post you put up, make sure to respond to a potential candidate and be personable in your conversation, make it engaging. You will need to earn their interest, especially if they are passive job seekers, who are difficult to attract.
Conclusion –
Social media recruiting helps an employer find the right talent, understand if these potential hires will be a good role fit and a good culture fit. However, what's also to be focused upon is that – what might work for one company, may not work for another. Therefore, be very sure of what will be the best social media strategy for you to use; what will be the best social media platform for you to post jobs on. Design a social media recruiting strategy that makes sense for your company and the roles you're hiring for. Make social media recruiting an extended support exercise that runs in addition to your current recruiting process.
You can link your social media accounts to Jobma. That lets you post your jobs to your social media directly from Jobma. Candidates can then do video interviews by clicking on those job postings.
Author:
Dr. Neha Manchanda is a founding team member of GreenThumbs. She is an Organizational Psychologist & experienced Executive Search consultant. She has been a strategic partner to numerous global and Indian conglomerates, helping them identify and recruit top talent for their businesses. Over the last decade, she has successfully helped close several key positions at leadership levels. She also serves on interview and selection panels of various companies and institutions.