Presently, we are living in the era of technology. No one can ignore or given any concern when the interviewer asks you what you know about the company, what's so special about the company and similar sounding questions. Since, the interviewer expects you to have basic and specialized information about the organization. Asking the basic question about the company shows your responsibility and awareness about your work life.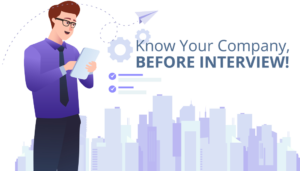 Generally, the interviewers don't want to spend the time of interview in explaining you the company's conditions, status and USP. Here, they expect you to know something about the operations, structure, branches and work criteria. If the candidate is still, unable to answer in a convincing way, then it simply shows your lack of interest and insincerity towards work. It shows your poor research and no efforts towards your professional life.
It means appearing in an interview without a proper research and preparation shows your insincerity. It simply lowers your chances to get selected for the job. Thus, candidates should thoroughly study about the organization. The simpler way to research about it is the website of the company. Here, we summarize a few key points that help the candidates to make a quick research on the respective organization.
Read about us page of the organization to know what the company does.
Read about its locations, where else the company is situated.
Research about its contributory companies.
Read on to the news sections for sure, to know about the latest happenings and events.
Get information about the new arrivals or its new products or service range.
Finely explore the websites, like Glassdoor, LinkedIn, and Vault.com. These websites will show you the real reviews, feedbacks, salary package and culture of the organization.
Lastly, research about its competitors and current position of the company to justify your statements in the interview.
Precisely, you just have to Google the name of the company and use keywords to make your search more effective. The results of research will give enough information about the company and build your confidence. Just focus and positively explore the facts about the company, before you finally make it for the face-to-face interview. Good luck!