5 Significant Social Media Platform for Job-Search!
Presently, social networking and making connections are considered as the most important components of the job search. Making use of potential social and professional networking sites to enhance your career and boost your job search will be the most significant way to use the trends of social media. You can choose to sign up on such significant social media platforms to get latest information and updates about job-openings. It will considerably amplify your chances of landing a job-profile in a lesser time frame.
Hiring through social media platforms is also enhancing the older ways of job-postings. Employers are now keeping an eye on your social media profile to screen your contention. The association with social media has made the job-seekers connect with it. Moreover, it is actually updating the way to search the jobs on the web. To make the job-search easy for job-seeker, here, we are listing down the potential social media places to find a job. It will certainly help everyone to know how to use social networking sites to enhance your job search.
Starting from the scratch, then it would be Google. It's the most reliable and authentic source of retrieving information. Most probably, only the authentic news gets shared over the reliable channels and then shown by Google. As per the research made on Google, the top most social networking sites that boost your job search are LinkedIn, Facebook, Twitter, YouTube and Pinterest.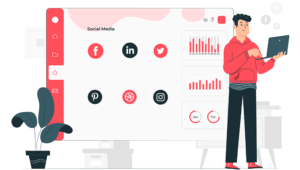 LinkedIn:
It's the most popular social networking website solely meant for professionals. Initially, it can be complex to figure out how to navigate and extract the information through LinkedIn. However, the job-opportunities you get through LinkedIn are always a class apart from the other platforms. There exists a certain level of every job posted on it, which makes it the most efficient platform to do the job-search.


Facebook: 
The prominent name of the social networking Industry is Facebook. It's connecting more than 200 millions of people around the world and more numbers are still counting into the list of its connections, with the each passing day. When it comes to job-search, it's a hub of opportunities. You actually get an abundant count of platforms, brands and people that may directly or indirectly help to get a job. The source of knowledge and information is getting updated with the fraction of time, which makes it a popular platform to interact and get the opportunities.


Twitter:
It's the famous name of social media industry as the micro-blogging website. It is connecting the world with fewer words. Usage of hash-tags with the relevant keywords would be the finest way to find a job on twitter.


YouTube:
It is the most prominent video sharing website of social media Industry. Submitting your video resumes on it can give a good exposure. The number of views in your video resume is capable of landing you the next job. Moreover, employers even browse for the candidates having relevant skills and experience, which can get your profile at the top search results. This will enhance your chances to get shortlisted for the desired job-postings.


Pinterest:
It's an upcoming social media platform that presents a clipboard of fine images. You can own an account and put your resume or info-graphic resume on it. You can use hash-tags and headlines to describe your resume, so that if searches are made on the skills or keywords can get your profile above all.


Precisely, if you wisely use the social network platforms, it will certainly amplify your job-search technique and land you the next job soon. So, simply learn to leverage on the power of the social media and get your tasks accomplished within a minimum time-frame.