Thinking of utilizing a video resume in your job search? If that's the case, there are several websites that would love to host your video and allow you to use it as a differentiator in your hunt. The question then becomes: which site is best suited to meet your needs? Below is a quick side-by-side comparison of two such sites, Jobma and Resumebook.tv.
Jobma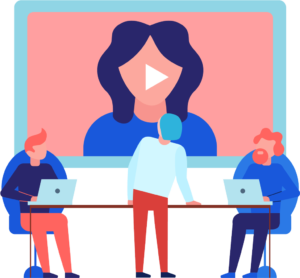 The highlights:
The site is free for job seekers, allowing them to upload their resume, a video resume, and search and apply to thousands of job postings from their profile.
Once a resume is uploaded, a QR code is inserted on it so that it can be accessed via smartphone by anyone possessing a paper copy.
Each user has a customizable profile URL which can be distributed anywhere on the internet, and along with that the site has built in email and social media sharing capabilities. With this feature, the profile can be accessed unlimitedly through all social media sites, other job boards, and email.
Jobma has a free app accessible through both iTunes and the Google Play store.
The lowlights
You can only upload multiple video resumes (3) if you have a paid membership, which is $5 a month, no contract.
Resumebook.tv
The highlights:
The site is free for job seekers, and allows them to upload up to 10 videos.
Each user has their own profile URL that can be shared through email or placed on other sites. Email sharing is also available through the site, which keeps a record of the shared emails for you.
There is a job search function on the site.
The lowlights:
Much of the job search function does not work, so the selection of positions is relatively low. The jobs available are searchable by geography and are government positions.
There is no blog or web app available.
When selecting a platform through which to upload and share your video resume, it is important to know what you're looking for and which sites have the best options for you. If you're looking to upload multiple videos, Resumebook.tv may be the right choice for you. If you're looking to share extensively over social media and browse jobs through the same platform, then Jobma might be a better option. Happy hunting!