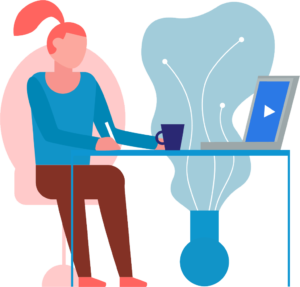 Video resume sites are starting to become more prevalent in the job search scene. When perusing your options it can be difficult to decide which site to choose, especially without having to create a profile just to find that it isn't what you're looking for. Here we'll compare two such websites: Jobma and Spark Hire.
Jobma and Spark Hire allow users to record a video resume, upload their resume, and input previous employment and education information. Both sites also offer free profiles, blogs, a job search feature and web apps. It may seem as though the sites are interchangeable, but taking a closer look there are several distinctive features that could make all the difference in your job search.
Jobma offers:
A customizable profile URL.
Unlimited sharing through email and a sharing feature that links to any and all social media sites.
A QR code inserted on your resume so that your online profile can be accessed via smartphone by anyone with a copy of said resume.
An advanced search that allows users to search for specific job titles, salary range, years of experience, job type, proximity, industry and posting date along with keywords and location.
Spark Hire offers:
The ability to make your profile private/public.
Video interviewing through the website.
Now that you've got a better idea of what is offered through different video resume websites, it's time to decide what's best for you and your needs. If you'd like to maximize exposure as well as search for specific positions Jobma is probably the option for you. If you'd like to be able to interview through the same platform as your profile Spark Hire might be the best choice. Either way, video resumes can make a huge difference in your job search, and set you apart from other candidates. With that being said, good luck!