Are you a college student or recent grad trying to get a leg up in your job or internship search? Want to differentiate yourself beyond your resume? Well going online is a great place to start. There are a plethora of job search sites and social media pages that can be utilized as self-promotional tools. Deciding which is right for you can be the tricky part. Here is a comparison of two such sites that can do wonders for your job/internship hunt.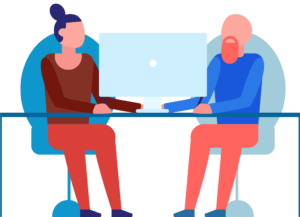 Jobma is a job search platform that hosts thousands of jobs and internships on its site. As a job seeker, you create your own profile including your resume, educational and work history, skills, LinkedIn profile, and contact information. Going above and beyond other sites, Jobma allows users to upload a 60-second video pitch, which can be used as a video resume or a demonstration of previous work. All of the information housed on the profile can then be shared throughout all social media and email unlimitedly. Jobma also attaches a QR code to user resumes so that their profile can be accessed by anyone who comes in contact with their resume. Users can search and apply for jobs or internships, visit the blog for tips about job searching, interviews, and resumes, and share their profile to anyone at any time. Best of all, their services are free; they even have an app for added convenience.
Intern Sushi is a job board that is strictly about internships. Internship seekers create a profile with their skills, previous experience, educational background, interests, and honors. This profile can be shared on Facebook and Twitter, or internship seekers can choose to add an Intern Sushi button linking back to their profile on any other website. Users and search for and apply to internships, as well as manage/view the progress of their applications on their personalized dashboard. Intern Sushi also offers and "Industry Insider" section, with news and advice specific to selected industries. Profiles are free, but if users choose to select a paid membership they can also upload personalized videos.
Both platforms offer benefits to the job/internship seeker, but if you're looking for more than just internships, and want to utilize video in your search, Jobma offers a more flexible profile at no cost. If you're extremely focused on internships, Intern Sushi may be right for you. In trying to differentiate and promote yourself in your search for jobs/internships, make sure you do your research into your options to select which tools are right for you.