How to put together the Best Video Pitch: Part 1
The video pitch is the core component of your Jobma profile and the greatest differentiator you have. It is important to correctly position yourself according to how you want employers to view who you are. Let's look at some simple things about the video itself to keep in mind when you are preparing yourself for your video pitch.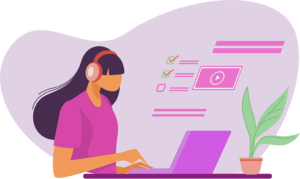 Appearance – Dress for the job! Dress the same way you would for an interview.  You are in control of their first impression with what you are wearing. It is the first thing they will notice about you before you start speaking.


Language – Speak clearly and concisely. Do not use slang or unnecessary complex language that would be inappropriate in a business setting. Use this opportunity to show you can speak comfortably and have a firm grasp on the language.


Background – Be aware of where you are recording your pitch. A future employer is not going to want to see a messy bedroom, sink full of dishes, or a cluttered table. It is up to you to create a professional environment where ever you are.


Character – This is your opportunity to tell your story. Show your personality and character in your video pitch. Be excited about the opportunity at finding your dream job, smile, and have fun with your pitch. No one wants to hear someone reading off of a script in a monotone voice. Show them why you are different.


Sound – Sound is very important for your video pitch. You want to be easily heard and understood. Be aware of your surroundings and what background noises could affect your video. Watch out for music or TV playing in the background or other noisy distractions depending on where you are recording your pitch!
Sign up today for free.