The online presence of a person plays a vital role in building up his/her image, globally. It is one of the most efficient ways to recognize and review a person as an individual. It means the online presence of a person matters a lot.
So, if you are just looking out to build a career in a specific field then all you need is to use the online opportunities. It is best given in the form of social media channels. They are the mainstream ways to conduct a research or analysis. Moreover, the hiring industry is trending towards the social media platforms to screen the right candidates. HR individuals are now checking out the positive online presence of the candidates and their respective efforts in race of well-established and established professionals.
Consequently, the online presence of a person connects them well with their prospective employer prior to the face-to-face interviews and allows both of you to know each other's professional talents and skills. Precisely, it is bringing the desired results to both of you in a short-span.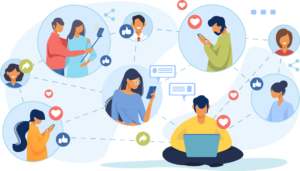 To be more specific about the ways to build a positive image on the web, let's bring out the ways that can help you in forming a strong online presence.
Enhance your social networking circle! Reaching out socially to get some initial exposure and readership will surely boost up your online presence. Don't be shy to test out the things in the social networking environs, as it leverages you the extensive online traffic.
Be opportunistic! Keeping your presence around the opportunities can bring the real time audience in your circle. Interacting publicly or socially with the audience on the platforms like Yahoo answers, Quora, public forums and many more similar to them will make you noticeable. Contribute content on the relevant blog posts or start doing guest blog posts. It's all easy and efficient way to polish your skills and presence.
Use Social Media! Start with positively yourself. Instead of posting irrelevant photos or post that can annoy anyone around us, focus on productive and social aspect of social media, as employers may not find it amusing like the way you do. You can add the link of your info-graphic CV or video resume in your social media profiles to get attention from everyone around you. Moreover, using video resume and info-graphic resume will enhance your online existence and market value altogether. And it's ultimately helping you to grow more and recruiters to recognize your caliber.
Hence, for the job-seekers using out the ways mentioned above will certainly guide you to build a positive online presence, along with the real showcase of your skills & talents at the right place.