Top Recruiting Tips From Hiring Experts
As a recruiter, it's become tough to attract and retain the best employees since people have so many options and choices for jobs available. Our tips will help you get better at engaging qualified talent and driving them on your job board to tackle this situation. Finding the candidates who tick all the boxes you have mentioned in the job description is even more challenging in this competitive job market. Top talent gets hired by recruiters within ten days of updating their resumes on a job portal. Earlier it was a pretty straightforward task for the hiring managers to create a job posting on an online portal and wait for the qualified applicants to apply. However, now it becomes more challenging to attract promising talent and convince them to apply to your company. If you want to learn strategies for attracting and hiring top talent and transforming your recruiting capabilities at a new level, keep reading below to find great tips that help you engage and recruit top talent for the position.
Ask for And Encourage Employee Referrals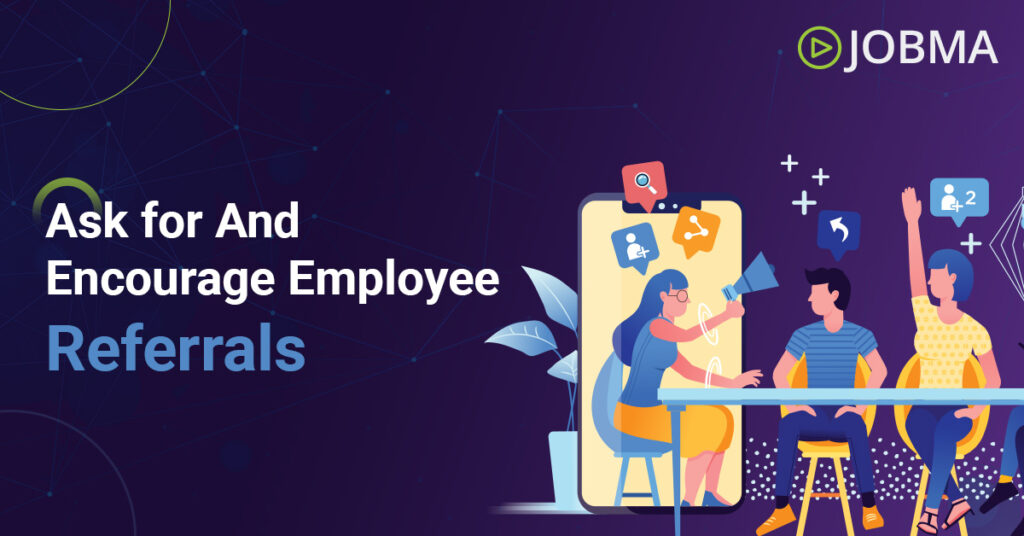 Take it from us, and employee referrals are a trusted and effective hiring method. This is the simplest ever and one of the most efficient strategies to hire qualified talent fast. Employees are the essential branding tool and advocates who represent the company in the market. So, what's stopping you from making your employee a volunteer recruiter? Your top-performing employees might suggest you who suits your company's work culture ideally and improves your company's efficiency. We at Jobma strongly recommend that you let your employees know you haven't any problem welcoming referrals. This transmits special treatment among employees and encourages them to bring the most talented people on the job board. Not only this, using an employee network allows you to limits the company's spending on promoting job advertisements. Best of all, your employees are well aware of your company's work ethics, and they necessarily invite likely people that will right-fit in your team and company culture.
Write Attractive Job Descriptions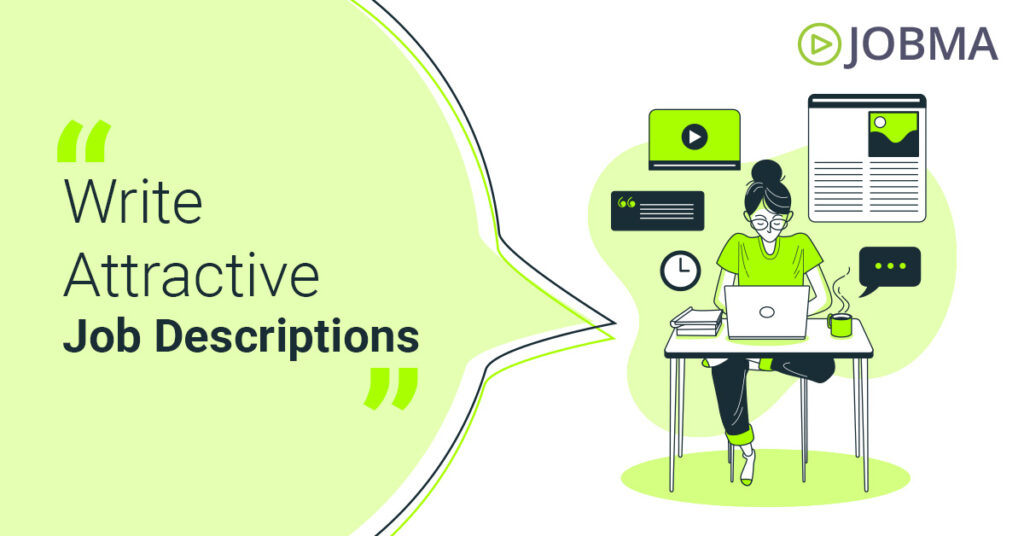 To attract promising talent to your job board, write a clear and precise job description. Mention in detail the mandatory and nice to have skills you wish to see in your employee. It's essential to understand that before you start hiring people, you should be clear in your mind about what qualities you want to see in your potential employees. To make this happen, you need to avoid writing a dull job description as it might push qualified and experienced candidates away from your job board. To ensure your job description is progressive and unique, avoid mentioning overly formal and too technical terms that are not in common trend. The use of stylish and pompous words might sound difficult for some applicants who are good at their core skills. And this ends up missing out on qualified candidates for your company. Also, the appropriate language and expressions in the job description help you attack top people from the industry. Moreover, make sure whatever promises you've made in your job description are authentic and not merely some catchy lines to attract candidates. False promises might help you get a dynamic candidate for a while, but immediately after they find out that the truth is different from deposits made in the JD, they'll likely move on to a better offer.
Use Digital Recruiting Tools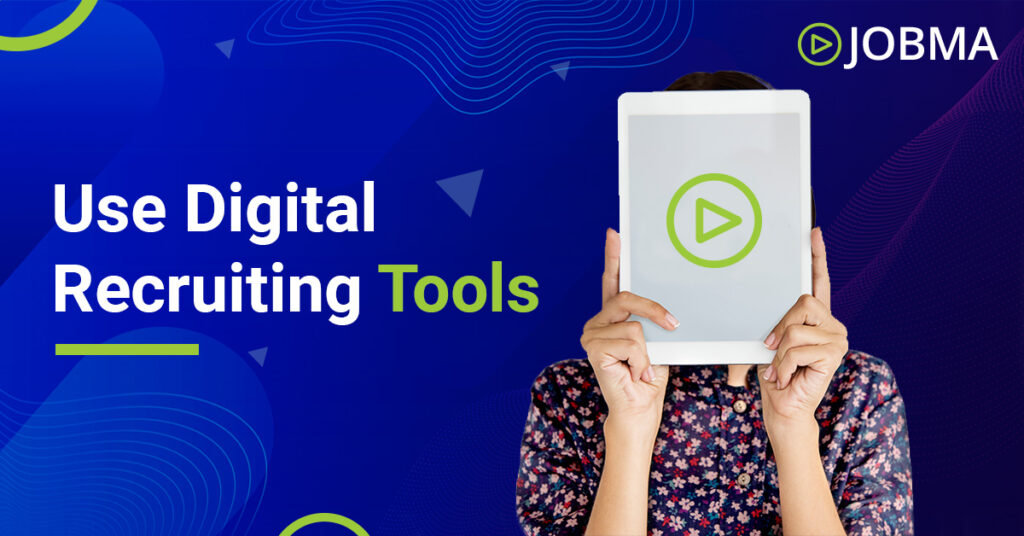 It isn't easy to sum up a time-driven hiring process and select the right-fit people for the position. Sometimes it takes more than months to discover, engage, and hire promising talent for the job through traditional hiring methods. Even if we avoid time-taking, there're always chances of human error and unconscious biases when recruiting candidates manually. The best thing is that numerous digital recruiting software, including Jobma are available in the market to integrate into your HR tool kit. Digital screening tools like Jobma brings recruitment automation and reduces human efforts in hiring practices. Video interview software provides top-notch interviewing features like remote-based, live and pre-recorded interviews, interview customization option, cloud-based storage space. And ATS-Enables dashboard to track the personal and team performances of the recruiters. Not only this, using a virtual interviewing solution, you can scan applicants in detail even before calling them in for a face-to-face meet and decide whether or not a candidate is suitable for your organization. It saves valuable time and budget and makes hiring smarter, faster, and more affordable than ever.
Streamline the Hiring Process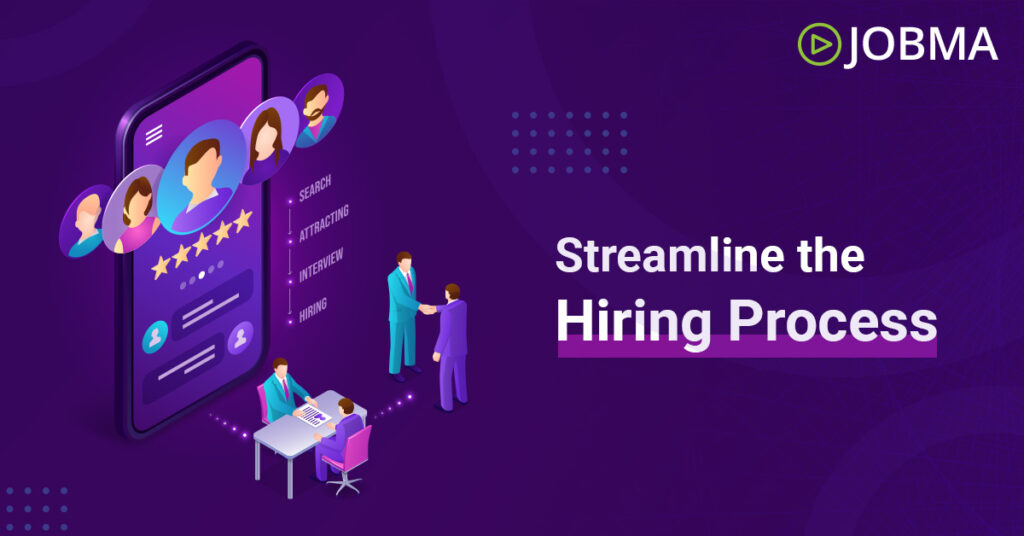 According to a survey by the HR industry, 73% of applicants believe that participating in the job interview is one of the most stressful events. It indicates that applicants are tired of taking part in interviews, submitting documents, and going through all the formalities involved in recruitment practices. Hence, this is high time when you should improve your candidates' experience by simplifying your hiring and streamlining the recruitment schedules better. Ensure you are not asking candidates to carry too many documents with them when hiring and, most importantly, make your hiring quick.
The best thing is that numerous tools, including Jobma could help you make your interviewing and recruiting more effective in less effort. You can use Jobma video screening software to screen millions of candidates simultaneously without calling them in for an in-person meet that improves candidates interviewing experience and helps them escape from travel and waiting in the interview line for initial rounds of interviews.
Ask Relevant Questions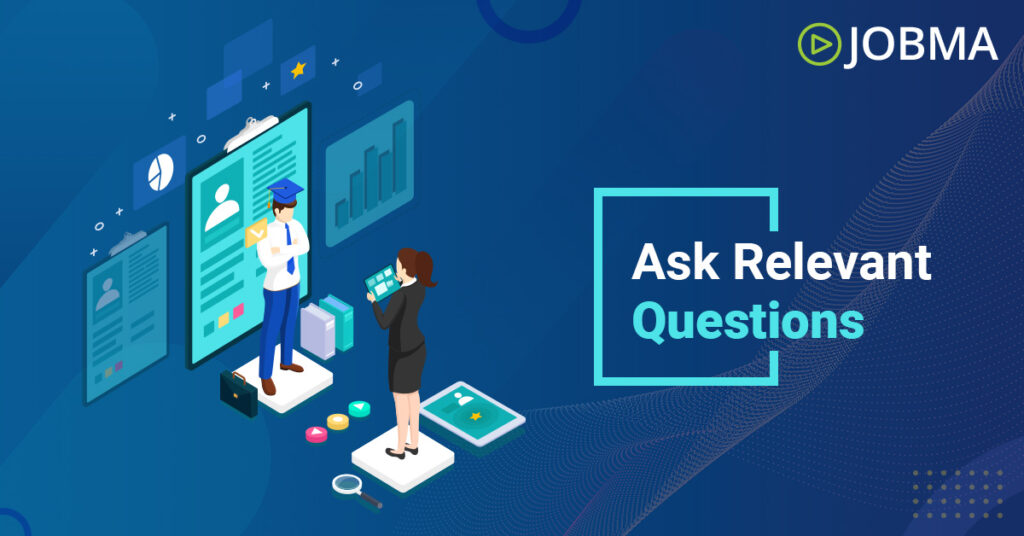 As a recruiter, your objective is to hire the most qualified candidates for the position. To make this happen, you need to scan the right things about each applicant by asking the right questions. A list of pre-determined questions could help you find out the most suitable candidate. For instance, for a web designer interview, your questions should be in the form of a designing exercise. In contrast, for someone who applied for an HR position, the questions should be focused on how to shortlist a better candidate when hiring. Fortunately, Jobma offers you the option to customize your interview parameters based on the job post and provides an interview question kit prepared with text, audio, and video form of a question that reduces your hiring efforts and helps you know a candidate's capabilities.
Above are some essential tips that are used by hiring experts to find promising talent. What is your favorite trick to engage and employ efficient people for your company? Don't forget to share us in the comment box. If you are still using tedious traditional methods to hire a candidate, this is high time when you should shift to virtual hiring. Integration of the Jobma digital interviewing tool makes your hiring quicker and transforms your recruiting experience to the next level. To enjoy a free video interviewing, subscribe to Jobma now!