According to a recent study conducted by the Bay Area Council Economic Institute (BACEI) and Engine Advocacy, 9.2 million U.S. jobs, or 5.6 percent, are in technology-related industries. The report also found that the jobs are located in metropolitan areas around the country—not just Silicon Valley.
If you are interested in a technology career, read below to learn out about the top five technology jobs in the U.S., the courses students should take to pursue a career in technology, and how to prepare for such a career.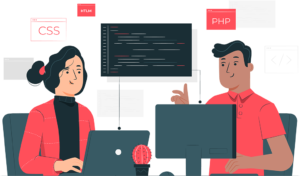 Top Five Technology Jobs in the U.S.
Recently, U.S. News & World Report published the 100 Best Jobs of 2013 in the U.S., and the top 10 positions are in the technology industry. Below are the top five positions on the list:
1. Computer Systems Analyst: A computer systems analyst will design and develop computer systems and have a solid understanding of how hardware, software, and networks work. Responsibilities for the position include: configuring hardware and software, monitoring and testing operational systems, and troubleshooting.
2. Database Administrator: Database administrators (DBAs) create, upgrade, fine-tune, and test modifications for databases. They set up databases according to a company's needs and are also responsible for implementing security measures to safeguard sensitive data.
3. Software Developer: Often considered the brains behind the systems, software developers write code for software systems, mobile applications, and so forth. They also test and debug the software, as well as maintain and improve it once it is being used.
4. Web Developer: Web developers will design and maintain websites, including layout and function. In order to be successful, they must understand basic principles of web design, including user experience, content architecture, how to integrate graphics and audio, and other technical aspects. Developers must know software programs, applications, and programming languages such as HTML.
5. Computer Programmer: This job entails the writing and programming of computer software. Computer programmers will also rewrite, debug, maintain, and test software programs that instruct the computer to accomplish certain tasks and perform effectively.
See the full list of the top 10 jobs in the country.
Courses Students Should Take to Pursue a Career in Technology
In order to pursue a career in technology, students will need to take computer-based education and learn about rich, interactive media, as well as other more technical aspects of the field. According to eLearners.com, online courses and degrees are a great way to learn about information technology (IT) and other technology-related fields. Through eLearners.com, online classes are available in Networks, Operating Systems, PC Repair, and Programming Languages, and students can learn about database integration, web design, information systems management, and network security. Enrolling in classes that teach about technology is a smart way to gain more education, experience, and understanding of what it takes to gain employment in technology-related fields.
How to Prepare for a Career in Technology
Today, a career in technology requires more skills than it ever has before. Below are the skills a person must have in order to be selected for a high-paying position at a technology company:
Tech Savvy: Most technology jobs will require a college education and some training. It's important that candidates can validate their technical prowess and stay up-to-date on the latest technology trends.
Business Acumen: Job seekers must be able to integrate technology and business. Today, technology drives business, but technology industry workers should be able identify new products and services that will advance an organization's penetration of its respective market.
Communication Skills: Today, technology workers must be more than just tech savvy; they also must be able to communicate with others. On the job, they'll have to explain difficult concepts to key stakeholders in the business, as well as communicate requirements to both technical and non-technical individuals. Many technology positions also require written documentation and oral presentations for internal or external use.
Project Management: In the technology industry, workers will have to manage technologies, business applications, and personalities involved in a single project. Therefore, it's important that they are able to demonstrate and understand what it takes to successfully manage a project from concept to execution.
Flexibility: Flexibility is crucial to a career in technology. Workers should be able to adapt to change and embrace new ideas, which sometimes are thrust on them in the middle of a project. They must also adapt to new technologies and new ideas to complete on-the-job tasks.
Organization: Careers in tech require that workers are thorough and organized. Not having attention to detail early in a project can lead to project failure.
To learn more about technology jobs in your area, visit the Engine Advocacy's interactive map, which displays the cities that have the highest percentage of technology jobs in the country.
About the Author:
Tiffany Sumner is a freelance writer for eLearners, where she writes articles on a wide range of topics. In her spare time she reads, writes fiction, and watches way too many cat videos online. You can follow her on Google+.