The vexed question, "So, what makes you different from everyone else?" that many recruiters generally ask in the interview. You should answer this question tactfully. A prompt humorous answer may be inappropriate at some instances, but will definitely show your witty nature. You should frame a better answer that may please the listener and is good from the perspective of the company.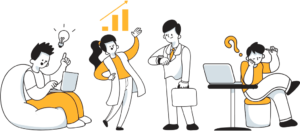 Every recruiter desires that whoever is being hired in the company should be the best. He/ She should possess a right attitude, right qualifications, and should have involvements in extracurricular activities. They want that the person they are hiring should be good at many things and not just a nerd of a particular field.
Involvement in extracurricular activities is one way that distinguishes you from the rest of the persons in the herd. You should show your extracurricular activities to the recruiters that you feel are worth mentioning and will increase the chances of your selection. You should also try to acquire some extraordinary qualities that make you different from the rest of the persons around you.You can mention that you have some qualities apart from the required qualifications such as: humor, ability to convince, a good orator, and more. You can say that I'm a smart worker. I work with dedication and never give up in adversities. Apart from work I involve in extracurricular activities. I love to sing, dance, and entertain others that make me quite pleasing, irrespective of my looks and my stature. My amiable nature makes others to approach me and I love to help.
The answer may vary from person to person, but the goal should be one, to convince the person sitting in front of you that you are the right candidate for the job. You should think for a while to speak, but whatever you speak, speak in favor of the company. What benefits the company will gain if you are being recruited. The extra knowledge, the extra activities may sometimes be an added advantages to the company. You may speak about your high percentage score in your degree examinations, about the projects that you have undertaken, or the things that you have accomplished that make you different from the others.
You should keep in mind that you should not boast about yourself and your capabilities that you have never achieved, in short don't lie. Sometimes extra qualifications and extra capabilities may have a negative impact on to the recruiters. Some may think that you are over qualified for the job and won't last in the company for more time and so is not a suitable candidate for the job. So think according to the perspective of the company and frame your answer.
Sign up today for free.