By now, we all know that networking is crucial to a successful job search. We know that a large majority of positions are staffed this way (80% according to an ABC News report!). But how exactly do we go about throwing ourselves out there? What if you don't have any old contacts to get in touch with and you're starting completely from scratch? That's okay! With a little bit of time and effort, you'll be able to create a network for yourself in no time.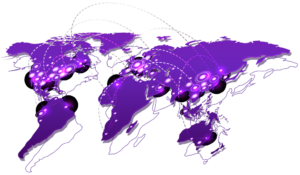 To help you get started with your networking efforts (or to help you continue to expand your network), consider finding people to reach out to in the following places:
Family and friends: This is a great place to start when you're still getting comfortable with reaching out to people and figuring out how you want to present yourself to potential networking contacts. Tell your family and friends that you're searching for a job. It could be that your aunt's friend is the owner of your dream company!
Informational interviews: If you don't have a lot of contacts that can necessarily help you land your desired position, then consider contacting someone who does have this position. Introduce yourself, provide your resume and video resume, and ask to meet for an informational interview. Not only will you gain more insight into your desired position, but you'll also be creating a new networking connection.
Social media: Writing a Facebook status or tweeting about your job search is an incredibly easy way to initiate networking. You'll hopefully be reaching a wide audience, so you never know who might respond! Be sure that your work history on your Facebook profile is updated and complete before posting. Perhaps include a link to your resume or video resume within your profile information or within the Facebook post. Also be sure that your social media profiles are professional and appropriate.
Community groups: Book clubs, volunteer organizations, cooking classes, and even the bar you frequent for happy hour. These are all places where you can strike up an informal conversation about your job search and fish for potential networking contacts. Ask a fellow club member what they do for work and they'll most likely ask you back, giving you a natural opportunity in the conversation to brand yourself and talk about your job search.
Professional associations: Nearly every profession has a professional association that aims to further the interests of the specified professionals and also promote public awareness of their professional field. This can be a great way to meet people within your industry.
As you can hopefully see, networking from scratch is not impossible and certainly not as daunting as some job seekers think it is. You have the resources and knowledge you need, so start building your network and increasing your chances of job search success right away!