Tips for Conducting a Seamless Digital Interview [Updated For 2023]
Posted on
Table of Content:
Introduction to Digital Interview in 2023
While living through the covid pandemic, the working world has been forced to shift businesses towards digital interview platforms to stay and thrive. The hiring industry isn't an exception to this. The use of digital interviewing software has become increasingly popular among businesses as it allows them to find, engage, and recruit worldwide talent for the position, all while working remotely. The integration of video interview software widens your recruiting network, automates initial screening of candidates, and scale-up recruiters' capabilities to hire the right people the first time around. Are you planning to shift your recruitment practices to the digital interviewing platform but aren't sure how to conduct seamless virtual hiring? If so! This post will explore how you can schedule digital interview while simultaneously having a positive effect on the quality of your hire, by using video interview software. This will also help to improve the candidate's interviewing experience.

Create a Tech-Savvy HR Team:
First things first, before you subscribe to any video interviewing software and post a job on an online portal, you must create a team of dynamic HR professionals who have hands-on experience in dealing with modern HR technology. To make this a budget-friendly transition, you can also train your old HR employees before you start hiring people through video recruiting platforms. By doing this, you could make video interviewing incredibly beneficial for your company. Is your organization using traditional methods and believe that meeting in-person is the only way to gauge a candidate? If so! Eliminate such thoughts and welcome a digital interview screening platform into your talent acquisition team for automated and rapid screening of millions of candidates and reduce your interview rounds and hiring time significantly. An alternative way to schedule digital interviews remotely helps us to expand talent search around the globe and reduce our dependency on local people to fulfill the workforce.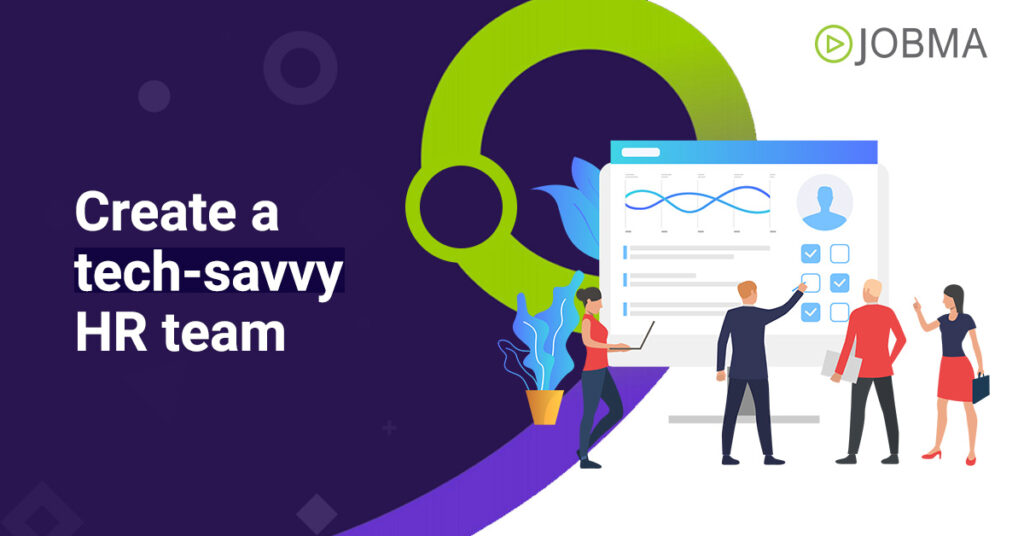 Work on Candidate Interviewing Experience
Instead of going back and forth to find a suitable slot for the interview that works with everyone's schedule, use an digital interview scheduler to save time and reduce efforts when planning the interview process. Jobma has recently added synchronized calendar and time to the software in the latest update that allows users to set their availability, making it very convenient for applicants to pick an available slot based on their comfort. Once a time slot has been locked in place, both recruiters and the candidate will receive notifications about the same digital interview. This makes the idea of virtual job interviewing in two different time zone more effective than ever. It will help you hire promising talent for the position and enrich your workflow.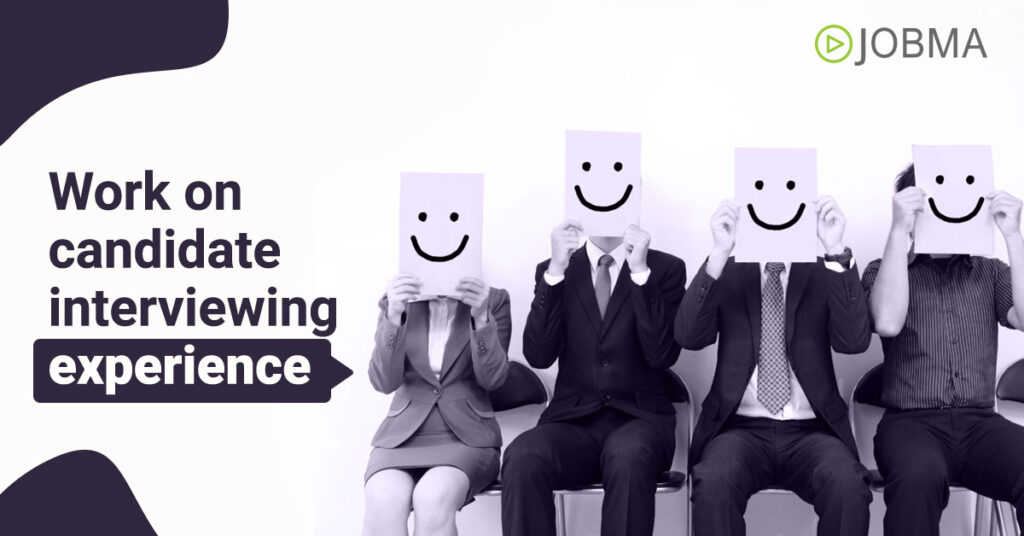 Choose a Compatible Video Interview Tool
Numerous video interviewing platforms are available in the market to host digital interview. But before you hop on a random digital interviewing solution, we strongly suggest you subscribe to a video recruiting software known to everyone and compatible with all the devices such as computer, laptop, tablet, android phone, and iPhone. Jobma video interview software is compatible with Omni-platform OS and is easily available for recruiters and candidates, making it a highly flexible digital recruiting tool. Moreover, it allows you to conduct hiring using your smartphone without needing to install the app. When choosing a remote-based HR technology, people prefer tools like Zoom to host video interviews as it provides free interviewing services. Keeping this in mind, the new version of Jobma has introduced unmatched video interviewing features like cloud-based storage space to store candidate's data safely and for extended periods of time. Jobma also offers a wide range of subscription plans starting from free video interviewing to enterprise solutions.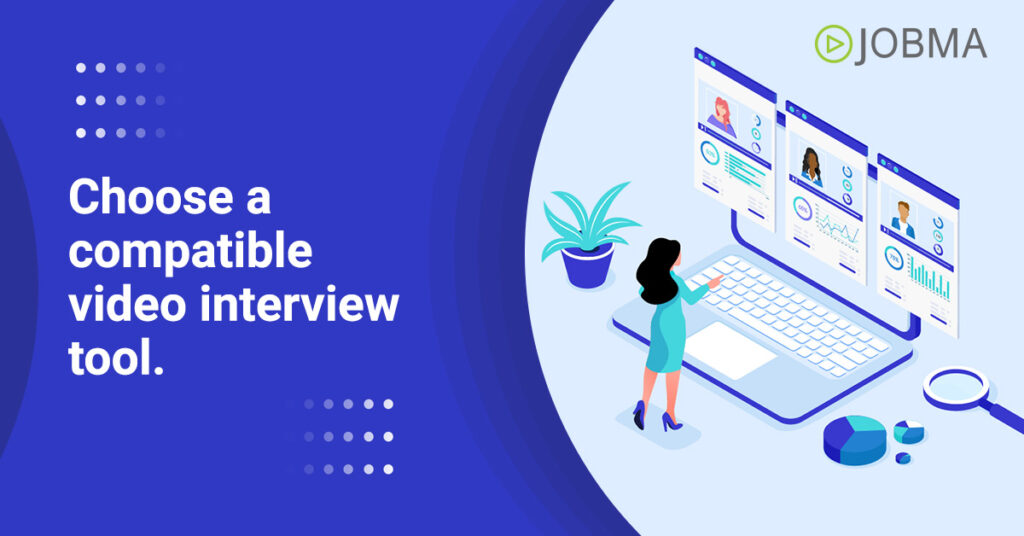 Test your Digital Technology in Advance
Testing your technology before going in front of the camera makes a big difference. If you haven't used this tip earlier, try it in your upcoming video interview, you will be able to feel the difference. An organized, technological setup fills you with confidence and avoids technical glitches like weak internet connections or malfunctioning of microphone and camera. Your time is valuable, and so is your candidates. The ability to recheck your internet connection, camera, microphone, and video quality helps to avoid re-recording your digital interview. However, interviewers should also be ready with the technical support to offer applicants if they face a sudden technical issue while having digital interview. Jobma provides exactly this, we offer 24/7 live support to our customers to resolve any challenge you may face.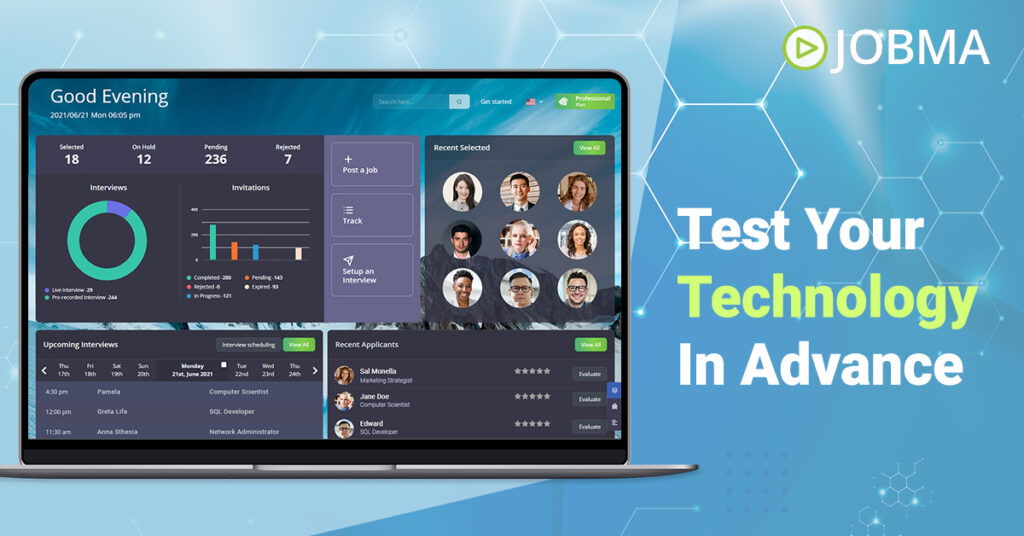 Pre-Decide an Interview zone
Whether you are interviewing in your office or home, don't forget to select a place where you can host a video interview in advance. The primary purpose of choosing an digital interview zone earlier is to help you find a well-lit-up, calm, and distraction-free space. Before the interview gets started, let your colleagues know that you're going to conduct an digital interview. If required, put a note on the door to let your office staff know that you need a disturbance-free zone. It would help you focus on your interview practices and make a better hiring decision. Meanwhile, don't forget to check out your potential interview space before you finalize it.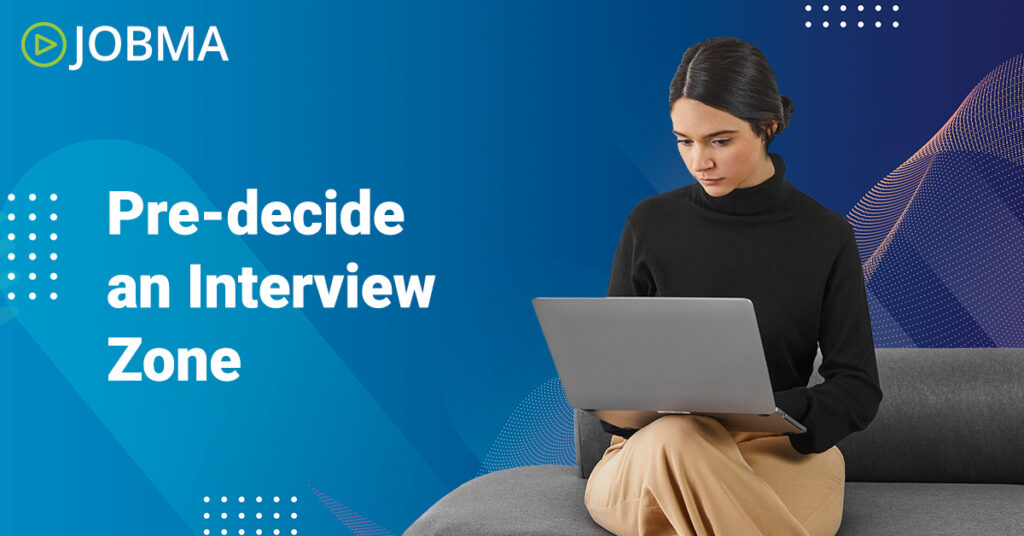 Prepare an Digital Interview Kit.
Another key of digital interview hack is that it would help you stand out in a video interview is to create an effective digital interview kit based on your job post. When screening the candidates, asking the right questions could help you select the most suitable talent for an in-person meeting and improve your quality of hire. Jobma's on-demand video interviewing tool allows recruiters to customize digital interview parameters based on their requirements and help find the right-fit people who could suit the company's work culture.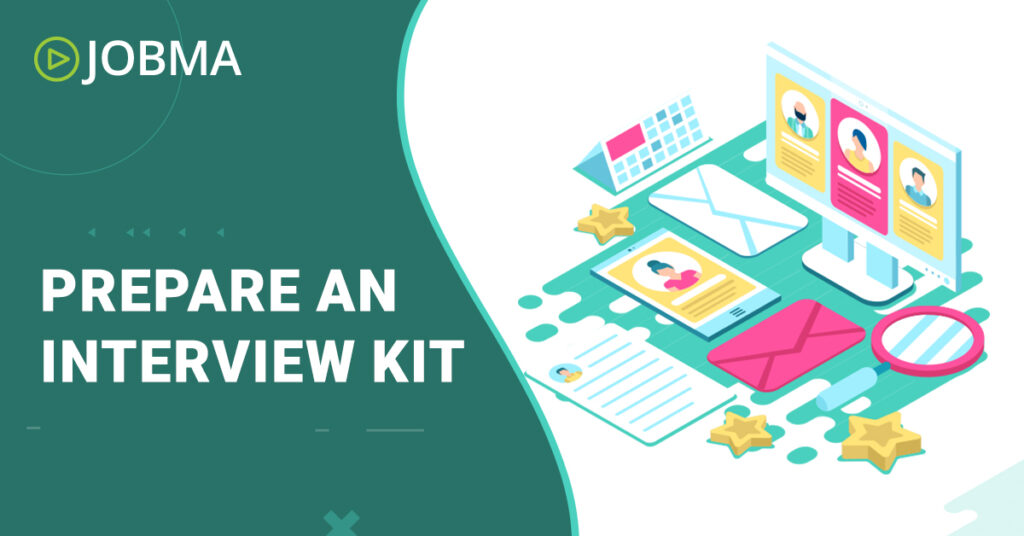 Conclusion On Digital Interview Tips For 2023
Above are well-tried and tested tips that could help you scale up your recruitment efficiency and transform your hiring capabilities to the next level. If you have yet not subscribed to a digital interview hiring solution, opt for Jobma. It provides users with top-notch digital interviewing features and a wide range of subscription plans starting from free online interviewing software. It will help you foster cost-effective, fast, and comprehensive hiring. Which is your favorite digital interviewing hack to conduct a seamless recruitment process? Please share your opinion with us in the comment section below.