By: Debra Wheatman
Debra Wheatman, CPRW, CPCC is president of Careers Done Write, a premier career-services provider focused on developing highly personalized career roadmaps for senior leaders and executives across all verticals and industries. Debra may be contacted directly at debra@careersdonewrite.com. Visit her site at: careersdonewrite.com. Follow Debra on Twitter.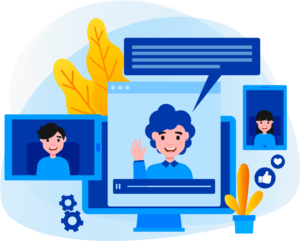 FaceTime, Skype, and Google Hangout all offer compelling videoconference capabilities that are allowing many companies to save time and resources by conducting initial employee interviews over the web. For the job candidate, this trend is both a plus and a negative as the candidate is given the opportunity to "meet" face-to-face but the advantage of direct human contact that an in-person interview offers is missing. Hence, subtle messages delivered via body language can be lost via video conference, which makes it even more important to be extra responsive, enthusiastic, and clear. Here are three tips to help a job seeker perform well during a video interview.
Test your video conference equipment ahead of time. Murphy's Law rules the day and the hour of your video interview, so plan ahead to make sure you know how to log-in to the machine or software that will be hosting your session. Give yourself 15-30 minutes ahead of the interview to get ready with your hardware and equipment to handle any hiccups that might occur.
Look into the camera as opposed to your screen. During an in-person interview, maintaining consistent eye contact with your interviewer is key. This concept still applies to a video interview, and you should treat the camera in front of you as your interviewer's eyes. It is easy to focus on the computer screen rather than the camera as this feels much safer and more natural; if you can mimic what the in-person experience, the better you will be perceived.
Choose a well-lighted room to conduct the interview. Be strategic in the room you choose to hold your video interview. A room that has poor lighting can send the wrong message to your interviewer in terms of presence and preparedness. Impress your interviewer instead by choosing a well-lit and bright venue that will communicate positive energy and enthusiasm for the role you will be discussing.
These three tips can help you prepare to give a better video interview. The same principles of punctuality, high energy, and research remain just as important. Allow technology to be an advantage for you rather than an obstacle.