Jobma Now Integrates With HiringThing!
We are thrilled to announce that Jobma now integrates with Hiringthing. We hope this integration will improve your workflow while still giving you the same powerful digital interviewing options you have come to expect.
Before we set up the integration and link your Jobma and HiringThing account, we need to create an interview kit. An Interview kit is the set of questions you want to ask to the candidate, you can create an interview kit in your Jobma account. Go to Set up an Interview > Interview Kit > Add New Kit > add the questions you want and save it. If you want to update or replace the kit later, you can always ping our support team.
To connect your Jobma and HiringThing account login to your Jobma Account, go to Integrations on the left, click on integrations again, select HiringThing from the list and click allow. Copy the Client ID and Secret key.

Now login to your HiringThing account, click on Account Details under the main menu tab.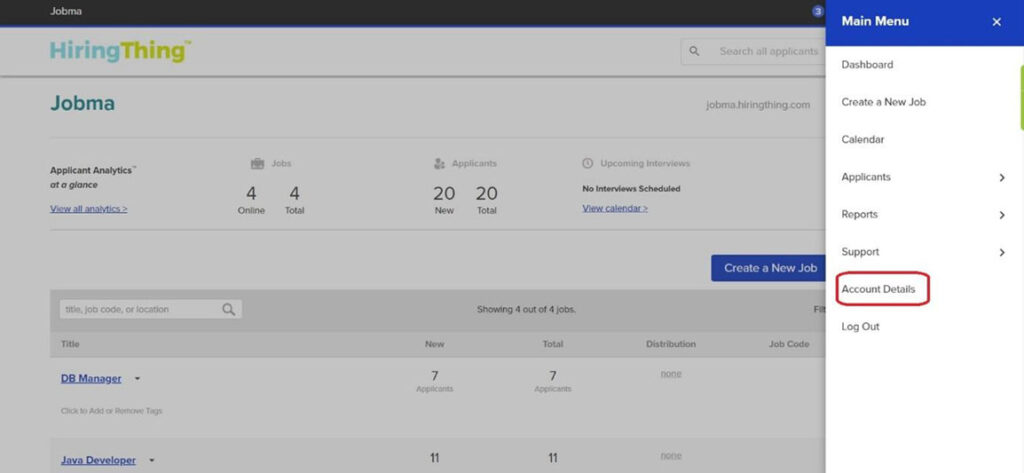 Go to the Integrate section and click on Partner Marketplace

Select Jobma under assessment provider list

Paste your Client Id and Secret Key. This links your Jobma and HiringThing account.

It's time to invite a candidate to an interview. To invite a candidate, go to your HiringThing account, click on a Job, open a candidate's profile, Click on Jobma Assessment under Verify button. This will send an email to the candidate with the interview link.

Once the candidate completes the interview you can evaluate it by going to the Candidate's profile clicking on Files on your left to watch the interview.

You can also view these interviews on your Jobma account by going to Integrations – Interview Listing and clicking on HiringThing.

If you have any questions, feedback or need help, you can always reach out to our support team at support@jobma.com or using the Live Chat option on our website.