Social Media has introduced a new dimension in every field of business industry. Specifically, the HR industry has started expanding with strategic and tactical approach. The social media have finely explored for securing the best candidates for their respective organizations. It has simply increased the awareness about the branding in the society & business industry. However, there are some simple ways that can certainly help the people to create a brand name on a global platform and enable them to leverage more resources from social media. Here, we give some points to consider for branding.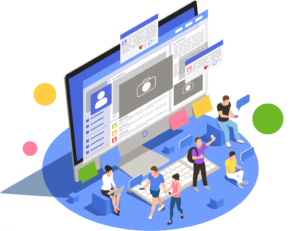 Social Media straight away gives you a platform to brand yourself, globally. People around the world are connecting with each other through social media platforms that makes the content placed over social media platforms reachable, searchable and visible around the globe.
Social Media is the most cost efficient way to create your business brand, like you can share your start-up or success stories on the pages, groups and communities. Let people engage with your conversations, activities and happenings get feedback from people and something similar sounding activity. Involving people around your conversations or activities makes your organization known and visible on the web.
Use social media platforms to post Job postings, current openings and activities taking place in your organization. Tweet, share and postings of activities will enhance the visibility of your organization and soon you will get recognized all around the globe. The organization will soon start receiving uncountable views each month.
Actively use the platforms for inviting people in the event or gathering or community meetings. Connect people and let them know about the company happenings, invite them, so that they can meet and get to know more about the organization.
Contributing content on the social media in the form of reviews, postings and feedback makes the organization visible on the web, like actively engage people and let the users generate content to make it more authentic.
Social Media generates the clients from both, targeted and non-targeted audiences. Reason behind it is that both of them are actively keeping an eye over the happenings and the growth of the organization. The visibility of the brand name is adding more audience with the organization, which is positive point to consider.
The tips given above for creating a brand name via social media has already implemented by many organizations and the result has already made them big brand all around the globe. So, Why not to use for your organization, why not to make use of this cost efficient way and reap the benefits of social Media exposure?
Just follow these few steps, within a time span your organization will be known by everyone and get you the desired exposure needed for future growth. So, build your social media world as the opportunities on it are almost limitless.