Searching for a job is a stressful process in and of itself, but on top of the resumes, cover letters, and qualifications, your appearance is still important in making a good first impression! You are essentially marketing yourself to potential employers, so dressing appropriately is a must during the interview process. You wouldn't purchase something in a sloppy package, so why would an employer decide to hire a sloppy looking candidate? Dressing appropriately also gives an employer an idea of how you will look and act on the job, so don't start your relationship with your potential boss thinking you have issues being appropriate in a business setting.
By doing a little research into the culture of the industry and company you are applying for you can get a good sense of where on the causal-professional dress spectrum you should be aiming for. Here's a little tip: being over-dressed is always better than showing up under-dressed. Your clothing choices reflect the seriousness with which you are approaching this interview, so never give them any reason to think this opportunity is anything less than of the utmost importance to you.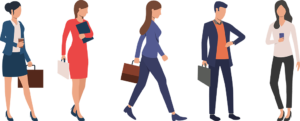 So, you've found that the company you are applying for has a business causal dress code. Before you throw on that yellow shirt or purple argyle sweater, take a look at this info graphic about what the color you wear says to the people around you. Remember that the responses that people have to color are intrinsic, so this information can give you a leg up the instant you walk into your interview!
Applying for a cut-throat sales position? Stick to wearing gray, black, and maybe even a splash of red. You want to project confidence, and if it is a position requiring aggressive sales practices, a red scarf or tie wouldn't hurt. Applying for a position in customer service or human resources? Stick to blue, brown and white. These colors are clean, calming, and relatable, all things a great candidate for those positions should be.
The concept of looking your best holds true for video resumes as well. It is extremely important to not only practice your video pitch, but to make sure that when you produce your final cut that you are well groomed, well dressed, and wearing a color that projects the characteristics that you want to portray to potential employers.